Mouli & Thread Lumba Rakhi for your Bhabhi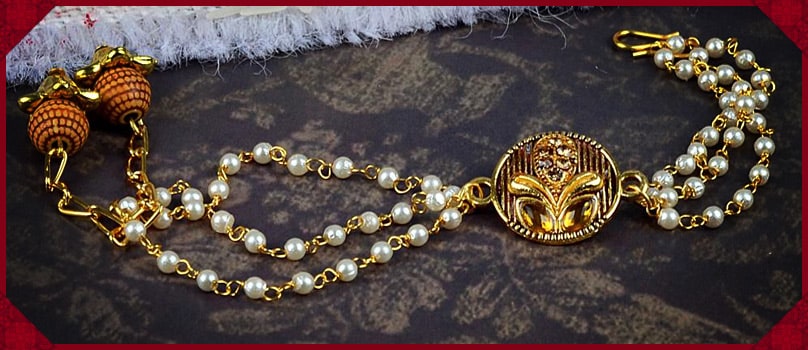 Raksha Bandhan is a very prestigious festival celebrated in India in a rather secular manner nowadays. However, several of the customs of this grand festival is still maintained by those who like to observe it in a traditional manner. The festival is celebrated with the sister tying the Raksha Bandhan thread on her brother's wrist. Several Rakhi gifts India are also exchanged between the siblings along with delectable sweets. Another custom of this festival is the sister tying a Lumba Rakhi on her sister-in-law or bhabhi's wrist. Therefore, choosing the perfect Lumba for bhabhi also becomes an important task for the sister. A variety of different types of Lumbas are available that are in various exclusive designs and attractive colours.
There are a large variety of Rakhis available on this online Rakhi store that can be sent to India. You can also find Lumba Rakhis here for your bhabhi which have been made out of mouli threads. A mouli thread has a huge religious significance being intertwined of red and yellow threads. This thread is considered to be an auspicious one and such moulis can also be used to make Rakhi threads. Beautiful and charming Lumba Rakhis can also be made using these that your bhabhis will love. A Lumba Rakhi is a Rakhi that can be worn by tying it to a bangle or Lumba that the bhabhi is wearing. These mouli Lumba Rakhis are becoming extremely popular due to their divine nature that most bhabhis will love.
Such Lumbas can be easily found in the bhaiya bhabhi Rakhi section of this online Rakhi portal to be sent to India. The Lumba for bhabhi category of this section boasts of many such charming and decorated Lumba threads. The Amazing Green Lumba has a green coloured centrepiece that is studded with many white stones. The Multi color Lumba has a multi coloured floral motif with a decorated colourful dangler with frills. The Double Floral Lumba for Bhabhi is pink in colour with a large flower with white dots as its main attraction.
There are also a large variety of Raksha Bandhan gifts available on this Rakhi site that can be sent along with this Lumba. You can find many kinds of hampers here which contain delectables like chocolates and dry fruits. The Enjoyable Chocolates in Cream Box contain handmade chocolates as well as chocolates from Cadbury and Nestle in an ivory coloured box. There are also different kinds of thalis on this online Rakhi store that has many tasty treats like chocolates and dry fruits. The Appetising Dry Fruits in Blue Thali contains four types of dry fruits which have been placed in a square blue velvety thali with studded stones.
These amazing gifts along with the attractive mouli Lumba Rakhis can make Rakhi an event worth remembering for you as well as your bhaiya bhabhi. Many kinds of gifts for sisters, brothers, bhaiya bhabhi and kids have been showcased on this online Rakhi portal. They can be easily used for sending Rakhi to India along with various kinds of Rakhis and Lumbas during this Raksha Bandhan.