1st Anniversary Gift Ideas for Husband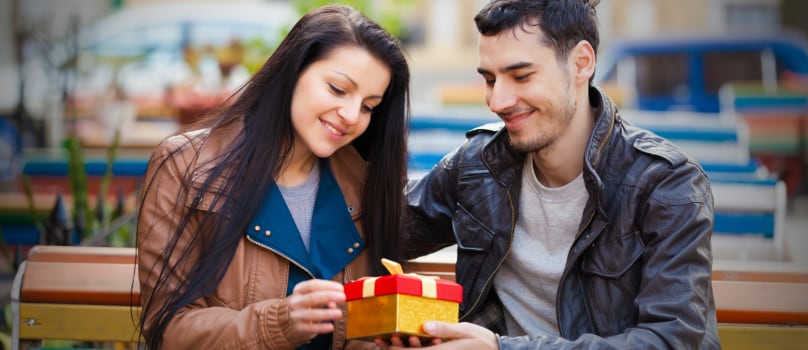 Your marriage must have been like a grand fairy tale full of splendour and pomp. You have taken vows on that day to be with each other in all the ups and downs. Marriage has brought immense joy in your life by bringing two soulmates together. It might be merely a year but it seems that you have lived countless unforgettable moments in this brief span of time. Your first anniversary is the day to relive and cherish those precious hours. Elevate the spirit of this romantic celebration by getting something exquisite for your husband. Your warm and heartfelt wish is all he wants. But a delightful gift from you will bring a priceless smile on his face.
Top 10 Gift Ideas for your Husband on 1st Anniversary
It is difficult to pick one particular gift item for your husband. Your heart is bubbling to express an ocean of feelings for him. You surely want to enthrall him with gifts those embody your love, affection and respect for him. You are no longer two separate selves. It has been a year since you tied the nuptial knot and by the time you are well aware of his choices and preferences. choose something to give him a pleasant surprise and recreate the magic of your wedding day.
Watches :

For a loving couple every moment is eternity. Timepieces are the most popular gift items on the amorous occasion of 1st anniversary. A watch symbolises timeless love between you two. An aristocratic timepiece will enhance his personality and appeal. Gift your husband a designer chronograph on this romantic eve to make him the happiest person on earth.

Gift Vouchers :

1st anniversary is also called " Paper Anniversary" as it is equated with the delicate nature of paper. Send gift card to India from USA. It is a piece of paper which can be exchanged for goods, services or discounts. You can gift your beloved husband a gift voucher of a lifestyle store, restaurant or health services. Elate him on this special eve with this unique paper gift.

Perfumes :

Perfume is the quintessential gift of love. The fragrance a man wears, resonates his sophistication. A sweet and masculine fragrance for him can surely uplift his mood and please your senses too. Your first anniversary is the celebration of the most romantic phase of your life. Make it magical by gifting your husband a delightful perfume.

Men's Jewellery :

Men also love to adorn themselves with resplendent jewelleries.

Electronics :

Men have fascination for electronic gadgets and accessories. From personal grooming gadgets to computer peripherals they usher their utmost care and protection on those. Indulge your husband on your 1st wedding anniversary with precisely designed electronic gadgets from high-end brands. This sweet gesture from you will surely make him ecstatic.

Men's Hamper :

You can enchant your husband with a lovely assortment of delightful items. An eclectic ensemble of various tits and bits arranged in an orderly manner is sure to win his heart. From gourmet chocolates to elegant apparels, gift hampers to India come with a bag full of happiness. Usher plentiful love on your husband on completing the first year of your marriage with an enthralling hamper.

Personal care :

Now-a-days men also pay detailed attention to makeup. They love to wear perfumes, colognes and other goodies to enhance their appeal. Charm your dear husband with an exquisite arrangement of personal care stuffs to say that he is handsome and you are concerned about his well being.

Cake :

Any festivity is incomplete without delicious cakes. A fondant cake on your 1st anniversary eve brings jubilance to the celebration. For your man, send cake to India same day delivery to take him on a voyage down memory lane. You can get him a cake of the same flavour as your wedding day. You can also opt for personalized cakes which come with your photograph.

Chocolate :

People have been in love with this delectable delicacy since time immemorial. Pamper your husband with alluring assortments of chocolates in India to induce romance. Manifest your profound fondness for him with these magic beans.

Personalized Gift Items :

Personalized gift items give you an opportunity to frame the photographs of your special moments and express your feelings through endearing messages. Be mushy and Get some elating personalized gifts India for him on your first wedding anniversary to make your love eternal.
Do not ponder much over your budget. Use a little imagination to make your first anniversary an affair to remember. The little endeavours you put to nurture your relationship will pave the way for lifelong marital bliss.