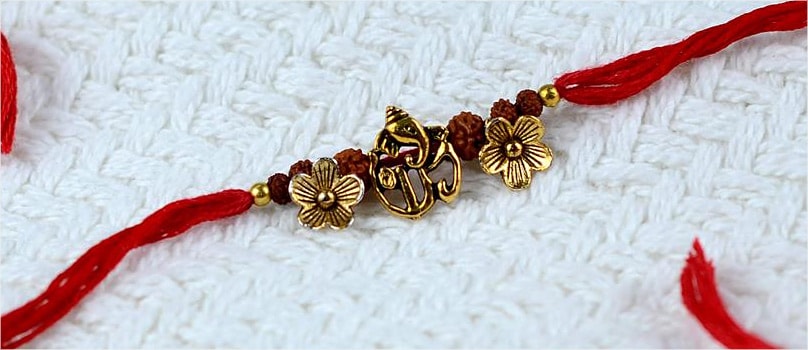 GiftstoIndia24x7.com hosts many kinds of exclusive gifts that you can use to win the hearts of your siblings on Raksha Bandhan. This online Rakhi store is well known and it is used by clients from all over the world who find this quite convenient. Thus, sending Rakhi to India from USA can be quite easily done through this online Rakhi portal. These Rakhi gifts and Rakhi threads can be used to celebrate online Rakhi India with siblings. Rakhi India can be celebrated on a much larger scale with such gifts and Rakhis as well as adorable siblings.
The Rakhis here have been categorised into $3 Rakhis, bhaiya bhabhi Rakhis, kids Rakhis, precious Rakhis, Rakhis for brother and Rakhi sets. The Swastik Beads Rakhi is an Om and Swastik Rakhi for brother that comes in a red and golden colour. The Rakhi has a red Swastik symbol as its centrepiece that is bordered with white and golden beads. The Red Stone Pearl Rakhi is a precious pearl Rakhi that is golden and red in colour having white pearls. The Rakhi has golden beads as its main attraction that is bordered on both sides with red beads and white pearls on top and bottom.
There are many gifts for sister on this Rakhi site like bags, jewellery, cosmetics, dry fruits, electronics, gift hampers, gift vouchers, home decor, tableware and many others. The Lovely Pendant Set is a pearl jewellery set that consists of a set of earrings and a necklace. The pieces of jewellery are composed of white and black pearls along with a single oval black stone on each of them. The Abstract Peacock Sling Bag is a sling bag that is purple in colour from a renowned brand. The bag features the image of a peacock that is blue in colour with orange crest and legs having a sleek sling.
A variety of gifts for brother are available here like accessories, personal care items, apparels, electronics, gift vouchers, jewellery, perfumes, personalized gifts and much more. The Gillette Men consists of personal care items from the renowned brand in men's care items, Gillette. The items that can be found here are Gillette Shaving Foam, Gillette Mach 3 Razor and Gillette Series After Shave Splash. The Special Cufflinks With Pen is an accessory gift of cufflink set containing two specific gifts. The items available here are a set of golden coloured cufflinks having a studded pearl in the centre and a silver pen with golden borders and clip.
While talking about these unique gifts, Mr. Amit Desai, the CEO of this organisation, states that, "Sending online Rakhis as well as Rakhi gifts is the newest and latest trend that is fast gaining ground. GiftstoIndia24x7.com provides for you various enchanting gifting options for Rakhi that your siblings will cherish a lot. These wonderful gifts will surely make this coming Raksha Bandhan an event worth remembering for you as well as your siblings."