Surprise your Kid Brother in India with Rakhi gifts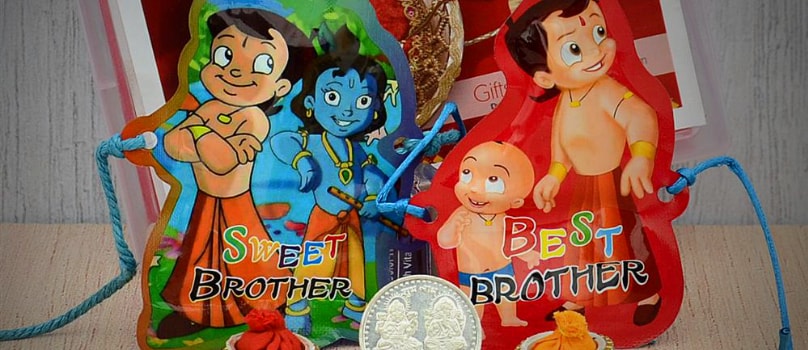 The relationship between brother and sister since childhood is a sweet and sour one. Sometimes they fight, sometimes they share and sometimes both of them get scolding from parents. They add life to the environment of the family. Thus in India there is the celebration of Rakhi to honor this lifetime bond between brothers and sisters. It is observed on the day of Shravan Poornima. On this day sisters tie a thread called rakhi on the right hand of their brother. It is believed that the rakhi thread protects the brothers from all the dangers of his life. So this festival is also known as "raksha bandhan" where the word raksha means to protect. It is considered to bestow long life on the brother by gifting through Giftstoindia24x7.com
In India this festival is celebrated with lot of vigour and zeal. This thread is not only a bond of fraternity but also a bond of unity among the nation. The great nobel laureate Rabindranath Tagore understood the impact of this festival and utilised it to spread harmony and peace all throughout the country. India was in a state of unrest under the British rule. Hindus and Muslims were fighting against each other, so he introduced the festival among Hindus and Muslims to strengthen the bond of unity. Nowadays rakhi is celebrated in a grand manner in the country. The celebration have been carried to foreign lands too, due to globalisation. Even sisters who stay in foreign countries want to send rakhi to India online to their brothers. They want to celebrate the festival sitting there even if they are away from their brothers. By sending rakhis they want to remind their sweet brothers that they have not forgotten them and their memories are stored in their heart.
Online rakhi sites has emerged to rescue brothers and sisters out of the problem. With the help of these rakhi sites you can do all the rakhi shopping, sitting at your home and be ready to celebrate rakhi with fun and frolic. Send rakhi to India cheapest with loads of exciting gifts for your siblings. Kids, are specially the most excited ones in the family to celebrate rakhi. For them the festival is just a time for enjoyment and merriment. They wait eagerly for the gifts they get from the siblings and the entire day they have to play with them. But some sisters send rakhi to India to their brothers due to the fact that they stay away from their brothers with their parents. Gifts play a major role in the rakhi festival nowadays. For kid brothers you will come across a lot of fun gifting options here. Here is a list of some of them: School Items - Kids love to go to school. Specially the Kids who are going to school for the first time. Thus giving School Items can give them a lot more energy and enthusiasm to go to school. Same in the case of your kid brother. He may have started schooling just some days back so on rakhi if you gift him school items he will be overjoyed. School items include a host of products starting from colorful bags, tiffin sets, cute table lamps, pencil boxes of different shapes and sizes or color sets. The little one will be joyous on the receival of such a gift on your behalf. Hot Wheels - Boys are always crazy about cars and stunts, irrespective of their ages. In childhood they are passionate about toy cars and when they grow old it is changes to love for real cars. Hot Wheels is synonymous with toy cars and little boys crave for them. They have innumerous toy cars in store. Also you will find toy sets of stunts which are quite lively and spontaneous. There are racer bikes, different models of cars, Turbo Twister etc. Rakhi to India can be sent any time, but a wonderful gift is also deserved by brother on rakhi. Your kid brother will begin to play with them the moment they open the gift of Hot Wheels.
Educational Games -
The best gift for a toddler can be Educational Games. These are such toys which increase the intelligence and patience of a child while playing. With the help of these gifts the little kid will definitely imbibe something good. There are games like Scrabble that can increase the kid's vocabulary, they learn the names of different animals in wildlife. Games like Build a sentence make a child form new sentences and help them in constructing sentences. They get to know about shapes from shape match. Jigsaw Puzzles makes them concentrate and create new pictures. Coloring books are also available. Win the heart of your kid brother with an attractive educational game.
Kids Hampers -
Hampers always add a special joy as it contains lot of gift items in one pack. There is a special section of gifts where you will find Kids Hampers that will enthrall toddlers. The variety of hampers constitute items like soft toys, cadburys and toy cars in one or there are school items and cars, tiffin box set. The kid brothers of yours will be too much excited to get so many gifts at once from rakhi from his dear sister. Though you cannot meet your brother on the special occasion of rakhi, you can obviously send him a rakhi to India with some choicest gift and make him happy. Strengthen the bond of love with your brother right from childhood. Distance should not pose a problem for you two. To add sweetness to the festival add a box of rakhi sweets and send it with the gift.