Rakhis with 'Shree' Signs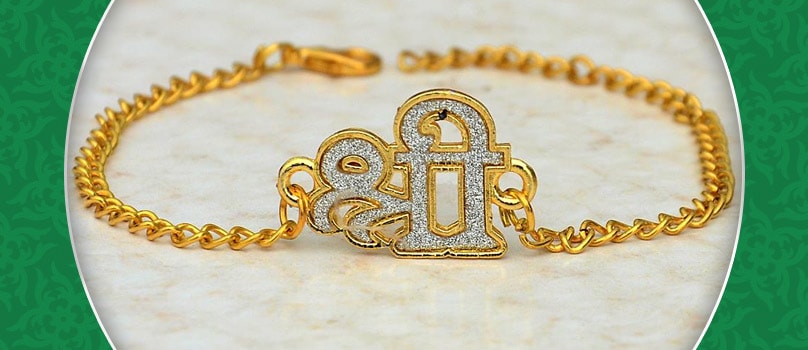 Raksha Bandhan is a very auspicious festival in the Indian subcontinent and there are various rituals surrounding this event. This festival is a celebration of the love that is shared between siblings from the time of their birth. Sisters apply tilak on their brothers' forehead and tie Rakhi threads on their wrists which gives this festival its name. Several Rakhis to India can be sent through this online Rakhi portal for siblings from a large variety of choices. There are various types of Rakhis and choosing the perfect Rakhi for the brother is a very important deal for the sister. She spends a large amount of time and energy in choosing a Rakhi for her dear brother by taking special note of his likes and dislikes.
There are various types of Rakhis available and you can choose the best one for your brother from these. Various kinds of spiritual Rakhis are available which feature various religious symbols and images of deities. A particularly popular category of spiritual Rakhis are the Shree Rakhis that have the pious symbol 'Shree' as their central attraction. Such Rakhis can be found as a part of two categories of Rakhi threads, namely, precious Rakhis and Rakhis for brother. Among the many varieties of precious Rakhis that can be found, the Shree Rakhis are present in two sections, that is, divine Rakhis and silver Rakhis. On the other hand, such Rakhis that are present as Rakhis for brother can be found in the Om & Swastik collection. Many beautiful Shree Rakhis can be found on this online Rakhi store that you can send to India for your brother.
The Exclusive Shree Rakhi is a precious divine Rakhi that features the Shree symbol in golden colour. The Rakhi has red threads and it is made up of a number of silver coloured stones as well as other trinkets. The Shree Bead Rakhi is also a precious divine Rakhi and the Shree symbol here is in orange colour. The Rakhi has orange and yellow threads with an orange bead inside a silver disc as its centrepiece along with the Shree symbol. The Om & Shree Silver Coin Rakhi is a precious silver Rakhi with the Shree symbol etched on a silver coin. The Rakhi has red and yellow threads with a silver coin as its main attraction that has the Om symbol on it as well.
The Sree Rakhi is an Om & Swastik Rakhi for brother that has a brown coloured Shree symbol. The Rakhi has red threads along with silver studded stones, red and green beads and golden trinkets. The Divine Shree Rakhi is a precious divine Rakhi having a Shree symbol in red surrounded by a silver coloured circle. The Rakhi has red threads and the rest of the Rakhi is made up of several silver studded stones as well as silver coloured trinkets.
These beautiful Rakhi threads along with a variety of gifts can be easily sent as Rakhi to India. The many gifts here on this Rakhi site have been categorised separately so that you can have a better experience. You can also send Rakhi to India from USA as well as from any other part of the world for your dear siblings.