Rakhis with an Ethnic touch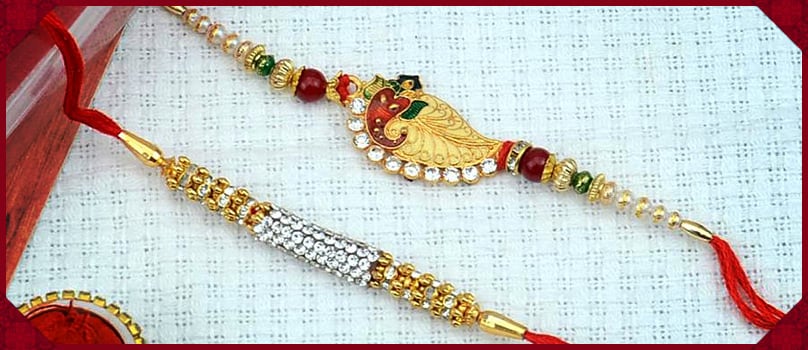 The festival of Raksha Bandhan is a very popular festival in India and it is also gaining wide acceptance all over the world. This is due to the fact that Rakhi is a celebration of the bonding that exists between siblings, especially brothers and sisters. Sisters select wonderful Rakhi threads that they can tie on the wrists of their brothers to commemorate this event. These threads are usually accompanied by various other gifts and all these make up the Rakhi gifting options. Choosing the perfect Rakhi from a large variety of Rakhi threads is a very challenging task that each sister undertakes every year. Many of these Rakhis have an ethnic look and you can find many of these on this online Rakhi store.
The collection of bhaiya bhabhi Rakhis which can be found on this online Rakhi store can be divided into bhaiya bhabhi set, bracelet Rakhi for bhaiya and Lumba for bhabhi. The Pearl Bracelet Rakhi is a bracelet Rakhi for bhaiya that has red threads with a circular centrepiece. The white Rakhi is made out of artificial pearls that make up the red based centre and the rest of it which has a band like appearance. The Gorgeous Lumba Rakhi is a Lumba for bhabhi that is green and red in colour having red, green and golden threads. The Lumba has a beautifully designed dangler which has been made out of beads, sequins and a green hollow disc.
Different kinds of precious Rakhis are also present and they have been classified into divine Rakhis, pearl Rakhis and silver Rakhis. The Moti Worked Rakhi is a precious pearl Rakhi that is white and golden in colour with red threads. The Rakhi has comprised of several white pearls that have been placed alternatively between sequences of studded stones and golden trinkets. The Golden Lord Krishna Rakhi is a precious divine Rakhi in a red and golden colour having red and yellow threads. The Rakhi features a figurine of Lord Krishna who is playing the flute along with other red and golden decoratives.
You can also look into the Rakhis for brother that are available on this Rakhi site which have been categorised into exclusive collection, Om & Swastik collection, rudraksh collection and zardosi collection. The Meenakari Floral Rakhi is an exclusive Rakhi for brother that has red and yellow coloured threads. The Rakhi has a floral motif as its centrepiece which has a golden base and red, green and white stones. The Appealing Rakhi is a zardosi Rakhi for brother that is red, green and golden in colour as well as red threads. The Rakhi has various floral and leaf motifs with studded stones and faux pearls along with red, green and golden beads.
These Rakhis will be loved by your dear brother when you send this for him as online Rakhi gifts. There are also a variety of other gifts showcased on this online Rakhi store that you can choose for your siblings. Thus, these ethnic Rakhi threads as well as the mesmerising Rakhi gifts will make the perfect gifts for sending Rakhi to India for your brothers and sisters who are away from you.