Attractive Rakhis and Gifts for Kids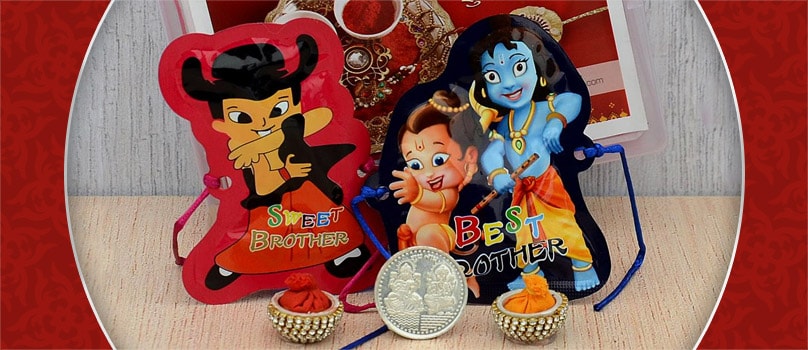 On the joyous festival of Raksha Bandhan, choosing a Rakhi thread and a gift for your elder brother is quite easy but for your kid brother, it is an entirely different ball game. It goes without saying that kids are the ones who eagerly wait for any occasion or festival as they get to eat lots and lots of ice-creams and have a great time with their cousins and siblings. Since Rakhi threads are an essential part of this festivity, you should take some time apart from your busy schedule to choose a perfect one for him. This is imperative if you want him to wear the Rakhi thread which you have send him on this joyous festival of Rakhi to India.
It is a known fact that kids are very choosy about everything. If something holds their interest, they will carry it with them all the time but if it doesn't then they will not even give it a second glance. Thus, when you are selecting to send Rakhi gifts to India along with an attractive Rakhi, do keep their preference and taste in mind. For instance, kids are always a great fan of cartoon characters. Whether, it is their pencil box, school bag, lunch box or water bottle, they will only choose the ones which have their favourite cartoon character's image pasted on it. For kids, anything related to cartoon will surely grab their attention.
Hence, if you are planning to send Rakhi to India then opting for ones which have cartoon figures are the best choice to go for. In regard to this type of Rakhis, GiftstoIndia24x7.com is worth a mention as it offers you a wide collection of such items for your kid brother. Browse through our 'Kids Rakhi' category and choose any one to send on the festival of Rakhi to India. From popular characters such as Tom, Jerry, Popeye, Pooh, Mickey Mouse to Pikachu, Shin-chan, etc, you will find all these Rakhis in this section. Besides these, you can also send Rakhi to India with figures of Lord Krishna and Ganesha as well.
Along with these Rakhis, you can also send him a gift by choosing from our 'Rakhi gifts For Kids' category. Board games, educational games, toy items, hot-wheels, etc are some items which you can send as Rakhi gifts to your brother back home. Just imagine his happiness when he receives a Rakhi with his favourite cartoon character and a collection of hot-wheels. Your gifts will surely make him jump with joy. Apart from your brother, if you are searching a return gift for your kid sister, we offer you several items which she will be thrilled to receive from you.
Barbies and stuffed toys are an all time favourite of all young girls. Keeping this in mind, we, at GiftstoIndia24x7.com offer you barbie dolls which will surely bring a big smile on your little sister's face. You can take your pick from 'Doctor for the newborn', 'fashionable', 'cute' and 'trendy barbie'. Whichever one you send to your sister as a Rakhi gift, she will definitely appreciate it. Apart from this, we also offer a wide collection of adorable teddies. These soft toys with their cute expression and soft material will win your sister's heart in no time.
Individuals all over the world have commented that sending Rakhi to India with the assistance of GiftstoIndia24x7.com is an easy and simple process. Thus, send attractive Rakhi along with exclusive gifts to your siblings and make their day truly memorable.