Gift of Rakhi threads to your brother in India on Rakhi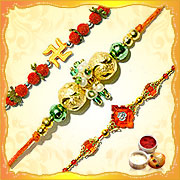 As Indian families are present all around the globe, all the Indian festivals are celebrated worldwide. A very important aspect of Indian festival is exchanging of gifts. Indians living far from their homeland send gifts to India, to their friends and relatives during such festive occasions, but most of them lack the time to visit a store and purchase their gifts. Due to this reason, nowadays one can find many online stores that help NRIs send gifts to their friends and family residing in India. The festival of Rakshabandhan is one of the most important festivals of India. The main event of the festival is the tying of the Rakhi thread. The Rakhi thread is basically a decorated thread, that a sister ties on her brother's right hand wrist. It is commonly believed that the auspicious thread lengthens the brothers longevity. The festival of Rakshabandhan is celebrated on the Hindu month of Shravana. During this time Indians all around the world seek for an easy way to send Rakhi to India, along with Rakhi gifts to their siblings residing in India. The online gift portals have made this task, extremely easy.

Amongst all the gifting portals available, the online gift store of GiftstoIndia24x7.com, is the best one as it has gifts for all the Indian festivals and International festivals. For the festival of Rakshabandhan, our online gift store has a wonderful collection of gift items, and our online store has been doing Rakhi delivery in India for over a decade. As the Rakhi thread is the most important part of the Rakshabandhan celebration, sisters are always in the lookout for unique Rakhi threads to gift their brothers. Once you use our services to send online Rakhi to India, you won't go anywhere else. Our online store is also very popular because, we also send Rakhi to India free shipping. To make the celebration of Rakhi, a memorable one, our online store has brought for all the Indian sisters around the world a wonderful collection of unique Rakhi threads. Listed below are some of the variety of Rakhi threads available on our gift store, to make your Rakhi shopping more easy.

Exclusive Rakhis - In this section of our Rakhi threads you will be able to find Exclusive Rakhis that will fascinate your brother. These Rakhis are wonderfully designed and are available at a pocket friendly price. Take your pick from the plethora of Exclusive Rakhis and elate your dear brother. You also shouldn't forget to add some marvelous gifts for your brother, when you send Rakhi to India for him.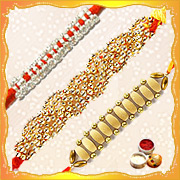 Om & Swastik Rakhi - The symbols of Om and Swastika, are the most auspicious and holy symbol in Hinduism, and it is commonly believed that the wearer of the symbol is protected from all adversities by the Divine. Therefore send your brother in India a Rakhi thread bearing these holy symbols, and make the festive occasion really special and auspicious. When you send Rakhi to India, you can also had a personalised gift for your brother, through our portal.

Rudraksh Rakhi - According to the Puranas, a demon named Tripurasura was troubling the Gods in heaven. The Gods prayed to Lord Shiva for protection, when Shiva opened his eyes, tears dropped from them and wherever his tears fell a Rudraksha plant grew. Shiva then used his divine weapon 'Aghor" to kill Tripurasura. Therefore send your brother a Rakhi thread made from Rudraksha beads, and help your brother to carry Lord Shiva's blessings with him. Through our online store you would also be able to send some fantastic Rakhi gifts to India, along with your Rudraksha Rakhi.

Zardosi Rakhis - It this section you will be able to find gorgeous Rakhi threads decked with stones and zari work, these Rakhis are worth endless appreciation. Send Zardosi Rakhi to India and add to the joy of the festive occasion.

If you are a sister who has a brother residing in India, and you want to make the festive occasion of Rakhi special for him, you need to send Rakhi to India online. And the most user friendly website to do it is GiftstoIndia24x7.com.