Amongst various festivals of India, Rakhi is one of the most important one. On this festival, sister shows their love and dedication by tying sacred silk thread "Rakhi" on her brother's wrist and pray for his well being. In return, the brother blesses his sister and vows to protect her from ups and downs of life. All siblings gather together with great enthusiasm and pleasure to make a remarkable celebration of this festival.
On Rakhi, every brother and sister desires to express their warm regards and love by sharing gifts. If your are not with your sibling on such auspicious day, then you can easily take the help of the online portals. Amongst various portals, GiftstoIndia24x7.com is a mega store, where you can obtain fascinating Rakhi gifts. Rakhi Thali plays a significant role in this festival. Before Rakhi tying ceremony, sister prepares a Rakhi thali with roli tikka, sweets, Rakhi threads, incense sticks, diyas and rice grains. In this online store, you will avail 5 types of thalis. Let us illustrate the varied types of thalis, available in our site:-
Feasting is an essential part of this feastival, so you can select chocolate thali as Rakhi gift for your loved ones in India. The thalis come with assorted chocolates such as Dairy milk, KitKat, Celebration, Five Star etc. The palatable taste of the chocolates will definitely overwhelm them with joy and happiness. Send these Chocolate Thalis along with Rakhi to India.
Dryfruits are absolute source of energy and nutrition. So, you can help your loved ones to remain fit and healthy on such grand occasion by gifting DryFruits Thalis. The attractive thalis come embellished with colorful glossy papers, silver ribbons. You can also go for the silver as well as glass thalis which come filled with cashew, almonds, raisins etc. So send Rakhi to India along with this precious thalis.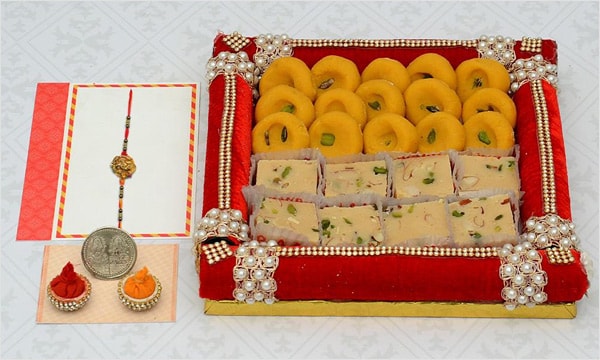 If you are trying to give a delicious sweet treat to your loved ones in India on Rakhri, then mithai thali will be the perfect gift idea. The fascinating mithai thalis are filled with delicious rich sweets such as mewa & kaju hearts, kaju gujia, karachi halwa etc. The mouth-watering taste of these awesome sweets will surely bring a big smile on the recepients' face. Rakhi Thali- Sisters conduct "aarti" of their brothers with the help Rakhi thalis. So, you can send antique and attractive silver thalis as Rakhi gifts. The thalis contain ritual items such as Rakhi threads, shagun nariyal and roli tika. The beauty of these artistic pieces will definitely please your dear ones in India.
Rakhi Trays
Rakhi Trays is the last section of Rakhi Thali category. The precious silver thalis contain shagun nariyal and roli tikka. The trays are artistically decorated with zari work and beads. The trays come in various shapes such as leaf shape, round shape, flower shape etc.
Along with these Rakhi thalis, you can also make Rakhi greeting cards as well as Rakhi for your dear siblings in India. Here is some suggestion regarding how to make Rakhi greeting card and how to make Rakhi. For Rakhi greeting card, use chart paper, cut it in two equal folds and decorate the front part of the card with pictures, stones, beads, glitters. For Rakhi use silk threads and in the middle of the thread stick some colorful beads or holy symbols. These handmade items will surely enthrall your siblings back in India.
Our reliable customer support executives as well as proficient delivery service will definitely assist you in sending gifts to India. So send rakhi to India as well as gifts to your loved ones in India and make the occasion happy and memorable.