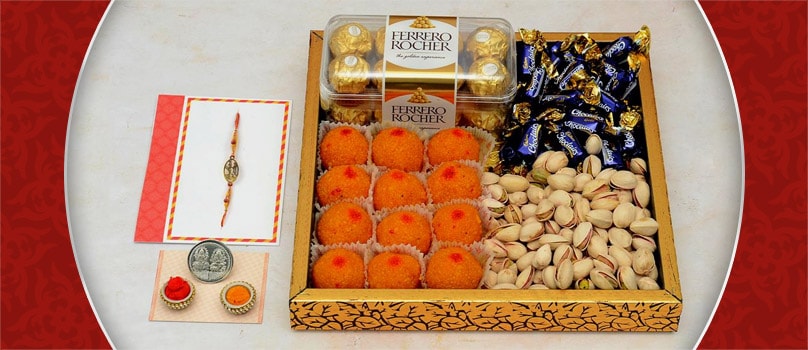 Celebration is a significant event in a country like India. The country is a mixture of various cultures and traditions. So it is likely that there are observations of different kinds of festivals in this country. Such a festival is Rakhi. In all parts of India this festival is celebrated grandly.
Rakhi is a festival which honours the sweet and lifelong relationship between a brother and sister. On this festival the sisters tie a sacred thread called rakhi on the wrist of her brother. For this sister have to send rakhi to India to their loving brothers. But in case of those staying within the same state or country rakhi is celebrated together with the family. Brothers and sisters spend the day together, have fun, hang out somewhere or have feast. But brothers and sisters who are separated by geographical distances are barred from celebrating rakhi together. For people like them the only option is sending online rakhi. The emergence of various e-gifting shops have made the celebration of rakhi easy and possible for siblings. By availing the service one can evade the hectic rakhi shopping and buy anything required for rakhi and also send rakhi to India online.
Most importantly nowadays gifts occupy a special position in any festival or occasion. On rakhi too, one can plan to send exciting gifts online. Besides, gifts like apparels, watches, hampers etc. but a beautiful rakhi thali would be an interesting gift idea apart from sending rakhi to India. These thalis are useful even after the occasion of rakhi. Here you will find different types of thalis which have various contents. Some of the special thalis are : Dry Fruits Thali - If you are concerned about the health of your siblings, then Dry Fruits Thali is the best option to send. Beautiful thalis are decorated with full of varied dry fruits like kaju, almond, pistachios, resins. Sometimes they also come with sweets along with dry fruits. The thalis which are available are Dry Pista thali, Sweets and Dry fruits Thali, Triple Maza and lots more. Rakhi Thalis - Rakhi thalis are essential part of the festival. The thalis consists of shagun nariyal, mangal kalash, sacred Rakhi threads and roli tikka & chawal dabbis. You will find fully decorated and prepared rakhi thali at our site. There are different types of Thalis available, some of them are, Rectangular Rakhi thali which is made of german silver, kaju roli thali, puja thali for rakhi
Bhaiya-Bhabhi Thali
One of the most important items of rakhi is Bhaiya-Bhabhi thali. They are both attractive and useful at the same time. The Rakhi set has a matching Rakhi for Bhaiya and a lumba for Bhabhi. Sometimes they are also stuffed with sweets for your lovable bhaiya and bhabhi. There are 2 bowls ( roli and chawal ), 1 kalash, 1 nariyal which will surely bring smile to them. Some of the types of rakhi thalis for Bhaiya-Bhabhi are Surya Thali with bhaiya bhabhi rakhi, German Silver nakshi thali with sweets, Heart Shaped bhaiya-bhabhi rakhi thali etc. So this time send rakhi to India along with a bhaiya bhabhi thali to your adorable brother and sister-in-law.
Kids Thali
For the little toddler in your family Kids Thali will be the most appropriate. Each thali includes precious shagun items such as kid Rakhis, mangal kalash with a shagun nariyal , roli tika and chawal dabbis. They are decorated cutely with beads and sequins. The kids rakhis depicts popular cartoon characters like Tom and Jerry, Krishna. Ninja Hatori, Mickey etc. Kids will simply fall in love with these thalis. While sending this Kids Thali you can also send rakhi to India cheapest. Sending Rakhis is not difficult task nowadays, anyone can buy a rakhi and send it to her brother. Uphold the spirit of rakhi and spread the joy of the festival among all.