Exclusive yet Affordable Rakhis which are in Trend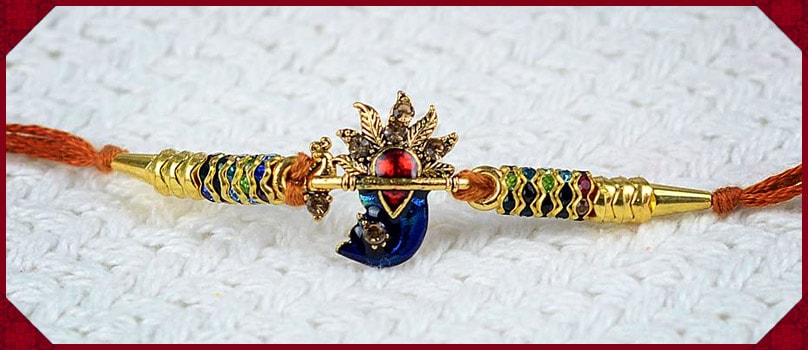 Raksha Bandhan is a celebration of the love that is shared between siblings and it has grown to be more than just a religious festival. Rakhi is now celebrated between all brothers and sisters and religion does not play much role in it. We start celebrating this day from our childhood which is why it becomes very difficult to let go of as we grow up and move to different parts of the world. However, the availability of online Rakhis has made the celebration of this day possible even if you are staying away from your siblings in India. There are many different types of Rakhi gifts for brother available on this online Rakhi store Giftstoindia24x7.com that you can send for your bro. The exclusive collection of Rakhis that have been showcased here is quite affordable and completely in trend with the upcoming fashion.
The Attractive Meenakari Lotus Rakhi is very colourful and your bhaiya will surely love to receive such a gift. The Rakhi has attractive meenakari designs that have been shaped into a red lotus with several stones attached. The Beautiful Stone Rakhi is red and golden in colour which your brother will cherish forever. The Rakhi has a red circular centrepiece studded with red and stones as well as white beads having red and yellow threads.
The Lord Ganapati Bracelet Rakhi is golden and silver in colour with a shining and sparkling look that your bro will like. The Rakhi has as its main attraction the image of Lord Ganesha in golden colour which has along with it several silver stones that make up the rest of the Rakhi. The Stunning Floral Rakhi has exquisite colours like red, green and golden that your bhaiya will love to wear. The Rakhi has as its centrepiece a shape of a flower which has been created out of red and green stones with a white stone in the middle.
The Multicolor Stone Rakhi has a silver colour that gives it a very pure look which your brother will surely admire. The Rakhi has a green, red and silver stone studded circular centre with the rest of it being made out of silver and red stones. The Meenakari Floral Rakhi has many colours that gives it a very sophisticated and elegant look which your bro will find attractive. The Rakhi has a very beautiful attraction in the form of of a flower that is made out of red, green and silver stones with a golden base.
The Pearl Rakhi with Circular Design has a unique bronze colour which will surely attract your bhaiya's attention. The Rakhi has a bronze coloured centrepiece studded with silver stones as well as beads and other trinkets. The Elegantly Glamorous Zardosi Rakhi has a very bright look that adds to its already pretty appearance which your brother will simply adore. The Rakhi has many silver stones as its centrepiece that form a diamond shape along with other trinkets of golden, red and green colour.
These elegant threads along with many others can be used to send Rakhi to India through this online Rakhi portal. There are also a number of gifts here in many varieties that you can send for your siblings along with these Rakhis. These Raksha Bandhan threads as well as the joyous gifts for this occasion will surely make Rakhi a grand affair.