Divine Rakhi: One of The Most Favoured Rakhi Threads on The Auspicious Occasion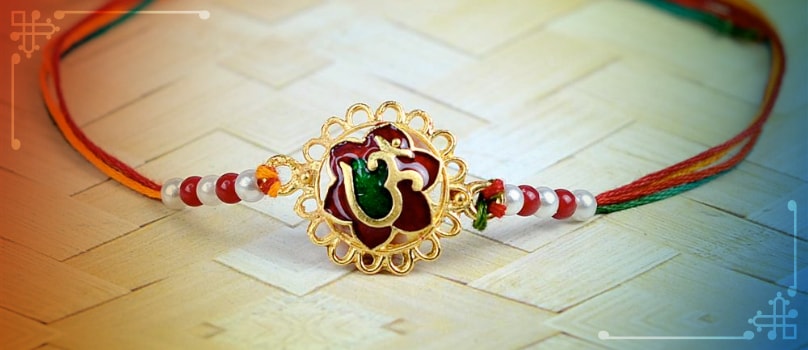 Rakhi is an important festival here in India and it is celebrated with a lot of sincerity and devotion. It celebrates the sacred love that is shared between a brother and a sister. Though it is a secular festival now, Rakhi is primarily a Hindu religious celebration and is considered a very auspicious occasion. Thus, a divine Rakhi will make a very appropriate gift for this occasion. However, if you are away from your brother on this Rakhi, then the only way to celebrate this festival is to send him an online rakhi to India. This premier online gift store offers you many types of Rakhis that your brother will just love. The divine Rakhis available on this site are also worth reckoning because of their uniqueness and beauty.
The Ganesha Meenakari Rakhi is very unique in its appearance and will make a great gift for your brother in India. The Rakhi is very distinctive due to its colour combination and aesthetic appeal. It is made from bright red threads which makes it look even more colourful. A beautiful red and golden image of Lord Ganesha is the centrepiece of this extraordinary thread. The Ganesha is placed on a round golden disc and surrounded by red and green alternating stones. Beads of red, green and golden colour form the extreme ends of this Rakhi.
This Golden Bright Durga Rakhi looks very religious and will be an instant hit with your dear brother. Bold brown threads are what make up this Rakhi which has a very festive look. The centrepiece of the Rakhi is the image of the face of Goddess Durga. The Goddess is wearing a crown and a nose ring studded with white stones and earrings made from red and green stones. Red, green and golden coloured beads and sequins make up this very innovative Rakhi.
Your brother in India will definitely treasure the Golden Lord Krishna Rakhi which is authentic and unparallelled in its appearance. This attractive Rakhi is made from threads of two different colours, red and yellow and looks very religious. The divine figure of Lord Krishna is the highlight of this glorious Rakhi. The statue is red and golden in colour with Krishna playing the flute which is studded with sequins. The crown that He is wearing is also made from sequins and gives the whole image a very bright look. Beads of red, orange and golden colour are what make up the rest of the Rakhi along with pretty colourful trinkets.
Send this Holy Shrinathji Rakhi to your dear brother on this propitious occasion and make the day extra special for him. This precious Rakhi has a lovely maroon thread which makes it look even more attractive. The main feature of this exquisite Rakhi thread is the figurine of Lord Shrinathji which is another name for Lord Vishnu. The red and golden yellow image is studded with white sequins and stones. The image is joined to two threads on each side which further merge into one. These threads have red, golden and orange balls on them which greatly enhances the total outlook.
You can also choose the Om Ganesh Rakhi thread with Beads that will remind your brother of you on this particular day. This red and yellow thread is very pretty and absolutely suited for this memorable occasion. The centrepiece is the symbol of 'Om' in a golden colour with a few white stones. There is also the face of Lord Ganesha in red stone which is connected to the back of the Om. Various golden, maroon, red and yellow stones are connected to form the rest of the Rakhi.
Gift this unique Rainbow Swastik Rakhi to your bro in India and celebrate this day with him. This one of a kind Rakhi is made of red and orange threads which makes it look very elegant. A beautiful golden 'Swastika' symbol white a white stone in the centre is the main attraction of this Rakhi. The Rakhi is surrounded by satin threads of different colours which gives it a rainbow like appearance. White faux pearls, golden balls and red and golden trinkets have formed the rest of this exquisite Rakhi.
These divine Rakhis would make an even better gift if they are combined delightful Rakhi gifts to India to your loving brother. Even if you are living in another country like America, you can easily send Rakhi to India from USA. These Rakhis will be greatly admired by your family back home and will also make your brother proud of you.