Delight your Kid Brother with Bahubali Rakhi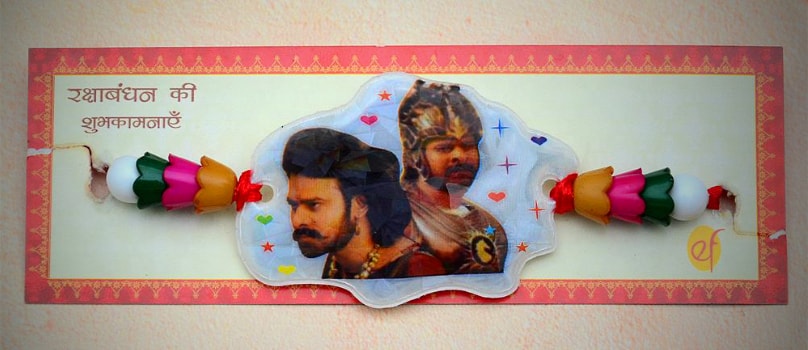 The celebration of Raksha Bandhan is a very festive time in India and its influences are spreading all over the world. The tying of the sacred Rakhi thread on the wrist of the brother by the sister is the main event of the day. This is especially a very happy time for the kids as they can spend the whole day playing games with siblings, cousins and friends. The coming Rakhi will also take place in this similar and you should start getting your gifts and Rakhi threads ready. This becomes an even greater obligation if you cannot be with your kid brother during this event and need to send the gifts for him to India. Only the best kids Rakhi will do for your beloved brother and hence you must be sifting through a lot of options. Most of the children today grow up watching kids movies and cartoon shows and hence a Rakhi featuring a famous kids character like Bahubali will be loved by your brother.
The character Bahubali belongs to the feature film of the same name that released last year amidst much adulation. But the character still remains a great favourite with kids due to his display of superhuman strength and unyielding courage. Thus, it is without doubt that Rakhis featuring this powerful kids character will win the heart of any child. Such Rakhi threads are available in the market and you can easily get online Rakhis featuring Bahubali for your kid brother. These Bahubali Rakhis come in various colourful threads and other decorations and they usually feature the robust character in battle gear.
This online Rakhi store features many such attractive Rakhis which your kid brothers as well as the adult ones will cherish. You can find Bahubali Rakhis and also other cute and exciting Rakhis in the kids Rakhis section. These Rakhis come in wonderful colour combinations and exclusive designs that makes them an instant hit with kids. The Exciting Purple Bahubali Rakhi features Bahubali in the battle field wearing a breastplate and a helm made out of iron. He can be seen here riding a roaring lion that is golden in colour while holding an iron spear. The Rakhi comes with satin ribbon like threads that are purple in colour along with multi coloured trinkets.
You can also send wonderful Rakhi gifts for kids in India through this online Rakhi portal. These gifts along with a charming Bahubali Rakhi can make this Raksha Bandhan a memorable one for them. Various types of thalis are showcased for kids on this Rakhi site that you can look into for your loving brother. The Golden Basket of Choclairs with Rakhi consists of a golden coloured basket consisting of a number of yummy Choclairs chocolates from Dairy Milk. There are also different types of personalised gifts for the little ones here that they will love. The Blue Best Wishes Kids Mug is a personalised white mug with an inner light blue wall and handle that can be personalised.
The Bahubali Rakhis will surely delight your kid brother in India and you can also look into the other Rakhis available on this online Rakhi store. These Rakhis can easily be used to send Rakhi to India for your kid brothers, brothers and bhaiya bhabhi. Various kinds of gifts for kids, brothers, sisters and bhaiya bhabhi have been showcased on this online Rakhi portal.