Angry Bird Rakhi for Kids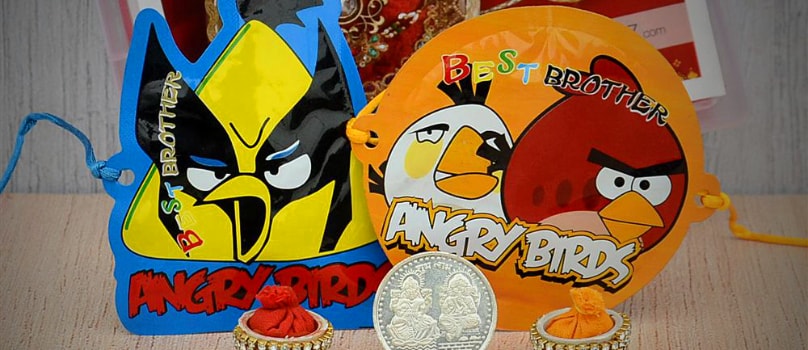 The festival of Raksha Bandhan is celebrated with a lot of fun and merriment, especially by kids. They spend the day with their siblings and have a gala time all through the day, enjoying themselves to the fullest. Apart from the usual rituals of this day, kids are more interested in the yummy delicacies, the attractive Rakhi gifts India and also the exclusive Rakhi threads. But if you cannot be with them on this occasion then they are going to miss you throughout the day. Thus, to make up for your absence, you must choose the perfect kids for these little ones in India. You need to select an awesome Rakhi thread for them and these Rakhis for kids feature popular kids characters. The Angry Bird Rakhis are a great favourite with kids who wait for the whole year in the hope of getting such Rakhis.
The Angry Birds are very popular characters from the video game of the same name that are loved by kids and adults alike. Hence, it was only a matter of time before Rakhis featuring these delightful birds came into being. You can easily get a variety of such online Rakhi for this coming grand Raksha Bandhan festival. Such Rakhis feature the different Angry Birds which can be distinguished mainly by their vibrant colours.
This online Rakhi store deals with many exquisite Rakhis for brothers of different age groups. Here you can get a number of Rakhi threads for your kid siblings in the kids Rakhis category. These threads have been divided into different sections based on design elements, materials and recipients. You can also get a variety of Rakhis featuring Angry Birds here that you can send for the little ones in India.
The Blue And Pink Angry Birds Rakhi features a blue coloured Angry Bird with orange beaks. This centrepiece has a blue floral base and it comes with pink ribbon threads having white designs. The Red Angry Birds Chain Rakhi has a red coloured Angry Bird having yellow beaks as its main attraction. The image of the bird has been placed on a white net floral background containing a blue zipper thread. The Yellow Angry Bird Rakhi showcases a yellow coloured Angry Bird which has orange beaks. The bird is on a background of a blue flower and it has yellow ribbon threads with multi coloured stripes.
The Sweet Angry Bird Rakhi has yellow coloured knotted threads with the words 'Sweet Brother' on a red band. The Rakhi features a red coloured Angry bird which has black coloured eyes and yellow beaks. The Cute Angry Bird Rakhi contains a silver coloured band as its thread having a white button. The Rakhi displays five Angry Birds of different colours, namely, red, blue, yellow, green and white on a silver base.
Your little brother in India will love to receive a charming Angry Bird Rakhi on this coming Raksha Bandhan. You can use any of these or other Rakhis to send Rakhi to India for him along with attractive gifts. Various gifts as well as Rakhi threads for your brothers and also your bhaiya bhabhi are available here.