Gift your kid brother in India with amazing Rakhis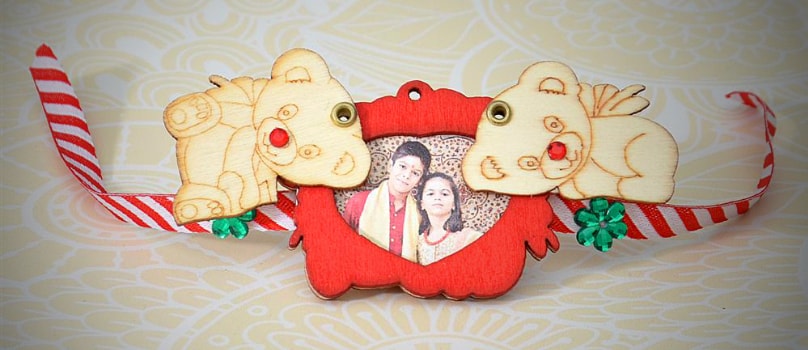 A kid brother is like a son for his elder sister. And the festival of Rakhi gives an elder sister the perfect opportunity to express her love for the little one. If the elder sister is living far from her kid brother in India, she must send Rakhi to India to her beloved little brother. This festival is very special for all siblings, and nobody enjoys festival more than the kids. Most of the kids, who have elder sister eagerly wait for Rakhi, because they know that during this festival they will be showered by innumerable gifts.
The festival of Rakhi, falls on a full moon day in the month of August every year, and on this auspicious day a sister ties a decorative thread, Rakhi; on her brother's wrist. The custom and rituals of rakhi celebration may vary from state to state, but the celebration of the spirit of the brother-sister bond remains the same.
With the development of modern technology, you needn't feel sad if you can't be with your little brother during this joyous occasion. There are various web portals available nowadays that can help you to send Rakhi to India. And amongst all these portals the decade old web portal of GiftstoIndia24x7.com is thev best. We also send Rakhi to India cheapest, as there are no hidden shipping charges. Your gifts for grownups and kids always differ, then why Rakhi should be an exception, by choosing amazing Rakhis from our web portal, exclusively created keeping the taste of little kids in mind.
Sending Rakhis to your brother has never been so easy. Just with a couple of clicks of your computer's mouse you can get the Rakhi of your choice, delivered at your brother's door step. Apart from interesting and unique Rakhis you can also select various other gift items for your brother and make the festival of Rakhi really special for him. The Kid's Rakhi section of our web store consists of categories like :
Character Rakhi - The Rakhis available in this category are rakhis with the images of their favorite cartoon or comic characters, like Spiderman, Harry Potter, Mickey Mouse and many more. When you send one of this Rakhi to India, your kid brother will be thrilled with joy.
Toy Rakhi - This section of Rakhi, has very cute and adorable toy figures attached on them. If you are bored with sending the regular ones each year, you can definitely send one of these online Rakhi to India, to give a wonderful surprise to your little brother. There are toys like Wizard, airplane, Angry bird, Smurf, Sumo wrestler and many more of such cute stuffs.
Fancy Rakhi - When you decide to send Rakhi to India for your little brother, and in the look out for some unique rakhis, you can choose the wonderful collection available on our portal under this section. The Dennis Rakhi, Sher Khan Rakhi and Pokemon Raki are the hot favourites in this section.
When you want to send Rakhis to India, you needn't go through the hassle of surfing through hundreds of websites to do your Rakhi shopping, just visit the web portal of GiftstoIndia24x7.com, and all your Rakhi gifting needs will be met, and that too at a very affordable rate.