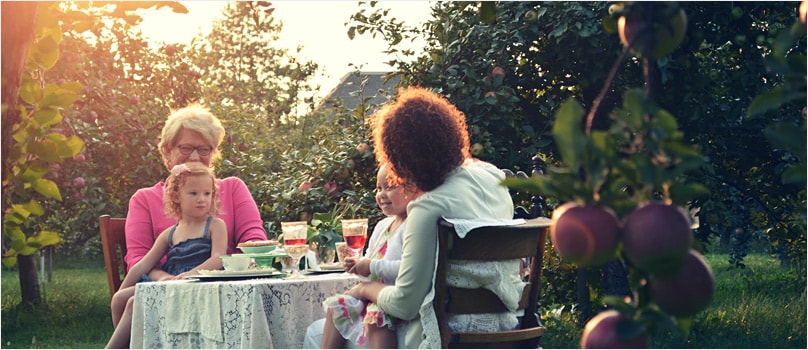 As a kid I believed that grandmothers had magical powers. They knew instinctively when one would get hungry, or predict when a member of the family would come home without even looking at the clock. The way simple recipes with the same ingredients that anyone else would use, tasted so much better when they cooked it or the endless threads of stories that kept spinning night after night and slowly became one with our dreams seemed almost magical. So if you can relate to these experiences, you too had a similar grandma, who would treasure these gifts as well for this Grandparents Day!
Fruits

With age, the need to supplement the body with vitamins and nutrients increase. The light and easily digestible fruits are a good source of these essential components. Fruits help in a number of ways that include maintaining skin health, improving immunity, regulating blood pressure and even limiting depression to name a few and is hence an amazing gift for your dear grandmother on this special day.

Saregama Carvaan

The Saregama Carvaan is a timeless beauty of a gift. Its vast collection of evergreen songs by renowned maestros like Kishore Kumar, Md. Rafi, Lata Mangeshkar and others, will take your lovely grandmother on a nostalgic trip in the most melodious of ways. It is easy to use with a provision to customise the play list as well. The device comes with songs of different regional languages like Tamil, Punjabi and Bengali as well.

Dry Fruits

Dry fruits are an amazingly healthy snack supplement. These superfoods are rich in various necessary vitamins and minerals that are beneficial for the body and especially for people of your grandmother's age. Gift the old lady a basket full of assorted dry fruits to India that she loves and make her feel special on this Grandparents Day.

Sweets

'A box full of sweets to India for this sweet lady' is a compliment she can never resist smiling at. Get her her favourite sweets and bring a smile to her face. Right from the juicy gulab jamun to the fluffy soan papdi, sweets make the most loved traditional gift to send to someone special.

Chocolates

It is time to refill her hidden stash of chocolates to India and candies from where you would get a secret treat everyday irrespective of being naugthy or nice, without anyone knowing it. On this Grandparents Day gift her a box of assorted chocolates and relive your childhood memories of fun, laughter and mischief with your very first confidante.

Classic Movie Collection

Was this elegant lady a movie buff in her times? If yes then the best gift you can get her is a collection of movies that she can sit, relax and watch in her free time. You never know how many of her untold stories may reveal themselves while you enjoy the movie with her.

Linen Sheets

There is nothing more comforting than a clean bed covered in a beautiful set of linen. Gift your granny a soft and elegant set of bed sheets and covers that she can cozily sleep on. Choose a piece that perfectly complements the colours of her wall and complete the look of her room.

Recipe Book

She is a treasure chest of good food. But there is no end to learning! So present her with a recipe book of your choice and pretty shamelessly expect those dishes coming to life on your dining table in the following days. This is a gift that surely has a benefit for you as well.

Kitchen appliances

She may have whipped a cake batter or kneaded the dough for a kachori to perfection with just a simple metal whipper or her bare hands all her life. But with age her ability to cook up a storm in the kitchen has got restricted. Gift her the freedom from physical stress and strain with a nice collection of kitchen appliances like electric blender, mixer and whipper to name a few.

Comfortable footwear

A number of physical problems surface in the old age, and the most common one among them is walking difficulty. The common reasons behind them are orthopedic issues and also various skin conditions like corns, warts and callus build-up. Many of these have one simple solution, wearing the right footwear. Make walking a comfortable experience of this Grandparents Day gifting her a nice pair of shoes that fit properly and eases her walking.