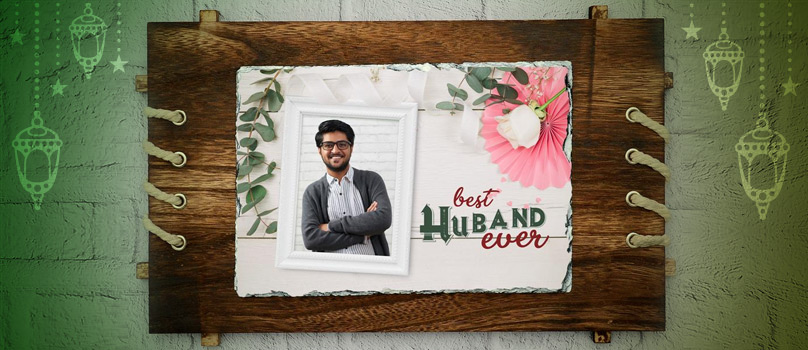 Eid is just around the corner and after a month-long fast, everyone is preparing for the big day of festivity. Apart from indulging in a delicious feast, the most sought after aspect of Eid is the exchange of gifts and pleasantries. For this, we present to you a list of 10 items that you can gift to your husband on this auspicious occasion of Eid.
Islamic Wall Art

Calligraphy and wall art holds a very significant place in the Islamic culture. Using these elements is the best way to decorate your home before Eid. Revamp your home by inscribing verses of the Quran as calligraphic wall art to gift your husband as his Eid gift. Even though it is a common gift, but a stylish wall art never gets out of fashion or tradition.

Smartphone/Tablet Stand

Smartphones and gadgets have become an important part of our lives. Even though these devices have eased our daily activities considerably, it has also become a constant burden to carry them around on a daily basis. To ease the inconvenience of holding the phone/tablet over a long period of time, there are now stands available in the market. Gift your husband the relief of putting the tablet/phone down with one of these stands on this holy festival of Eid.

Journal

Many men have the habit of keeping detailed records from work, home or even personal life in a journal. If you are away from your husband and he can't share every moment with you, it is the best way he can vent out his emotions. To meet this purpose, a special journal would be a beautiful present for your husband on this festival of Eid.

Customized Coffee Mug

Is tea or coffee the first thing that your husband loves to have in the morning? Then a customized tea or coffee mug would make a good gift for your husband for Eid. A special message or a picture can be printed on the mug to remind your husband about his morning prayers. This gift is a sweet gesture of love and devotion towards your husband through his spiritual upliftment.

Gift Hampers

It is difficult to stay away from your husband on this special occasion of Eid, which is why we at Giftstoindia24x7.com bring you a collection of specially selected Eid hampers for your husband. We have enlisted some traditional assortments for you to select and send to your hubby dearest. Dates & gobindobhog rice with sewai hamper, Dry fruits with dates & Ferrero rocher a tray and Dates, sewai and gobindobhog rice in a tray, are some of the products specially curated for Eid.

Dry Fruits and Nuts Basket

The most significant gift for Eid is dry fruits and nuts basket. Gifting dry fruits to your husband would never go wrong, which is why our website brings you an exquisite collection of nuts and dry fruits for its Eid special gifts. Crispy sweet dry fruits, Kaju with raisins & almond hamper and Basket of different dry fruits are a few names from our inventory.

Watch

A devoted Muslim prays five times a day. So, to remind your husband about his 'namaz time' a watch would make a perfect Eid gift. Our collections includes some elegant watches that shall appeal to a modern yet traditional man. To serve the purpose, we have specially selected from top brands of watches such as Titan, Timex, Citizen and much more, for our collection on the website. With one of these, your husband is sure to remember his prayers on getting one of these as his Eid present.

Holy Book Stand

For a tradition Muslim man, nothing can be more joyous than getting a book stand for the holy book of Koran. To make it an additional delight, gift him the book too along with this stand. This shall be an absolutely marvellous gift for your husband on Eid.

Beard Grooming Kit

Every man needs proper grooming and tending to his beard. It is like a ritual. If your husband sports a great beard and it is a part of his identity, then a good beard grooming kit would make an excellent gift for him. Our website has listed some these amazing products like Beardo and Park Avenue for you to select from to watch him groom his "mane-ly" appearance.

Islamic Car Hanging

A gorgeous Islamic scripted car hanging would make a soothing gift for your husband. A great dangler made with pearls, cotton thread, and gemstones with calligraphic inscriptions can be a blessed gift on this holy festival. An added touch with a personalized message can add to the value of your gift for your husband.