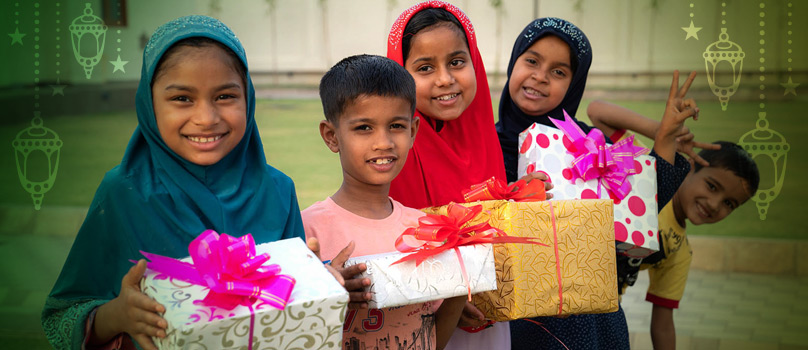 Image Credit : Orphans in Need
Kids love celebrations. It is the time when they get to dress up, meet their friends, have their favourite treats, and if the celebration is Eid, then definitely bag a generous amount or a gift as Eidi from their elders. Here is a thoughtfully curated list of gifting ideas that shall make your little one happy.
Interactive Prayer Mat

Looking forward to instilling in your child a sense of piety? This Eid, make praying fun and interactive with the technologically aided Interactive Prayer Mat. It contains touch sensitive diagrammatic representations of the positions of the body parts on the mat while performing wudu, adhan, and salat. This helps to teach your child its step by step procedures while also letting them know about the number of times each process needs to be repeated.

Chocolates

Kids and chocolates have a magnetic pull towards each other. So to bring that radiant smile on your little ones' face, gift them an assortment of their favourite chocolates as their Eidi.

Soft Toys

Soft toys have a very high feel-good quotient that allows your kids to relax and also makes them happy. It is something that children connect with a lot and is hence one of the most preferred bed-time companions for them. You could purchase their favourite animal or character shaped soft toy to make them feel special on this Eid.
Check out these cute and cuddly soft toys.

Board Games

The best way to spend time with your children is an engaging session of board games. Unlike individual toys board games require the participation of more number of people. It helps them to learn how to work as a team and also teaches them to share. Find the perfect kind of board game for your child and be assured to have a fun evening with him/her on Eid.

Dolls and Toys

There are never too many toys for a kid. Be it a remote-controlled car or the quintessential Barbie dolls you have a plethora of options to choose from for the perfect Eid gift for him/her. Make this occasion a special one for them by gifting them their favourite playtime goodies.

Which of these are your kids' favourite?

Books

There is no gift better than books that you can give to your children. Knowledge is one treasure that they can never lose. Gift them an assortment of books from different genres such as educational, fictional, activity based and others to keep your kid busy in a productive and developmental way on this Eid.

Garments

What is Eid without a set of new and fancy clothes? You can get your child a beautiful piece of garment that he/she can flaunt during the celebration. Also, kids are in constant need for new clothes as they eventually grow out of the old ones, making this one of the most important and necessary gifts for them.

Islamic Kids Room Decor

A kid's room should be a place exuding positivity and good vibes. On this Eid gift your child a room that he/she can come to and feel good in. The room can be painted and decorated with Islamic wall art and murals that shall also induce a sense of spirituality in him/her.

Camera

Does your child have a keen eye for details? Let them develop a hobby out of this quality. Gift your observant kid a camera to capture all that does not miss his/her eyes and be sure to have scores of memories captured on every Eid.

Tablet

This is the era of virtual learning. Give your child an open window to the endless world of virtual information by gifting them a tablet. It would also be an educationally useful gift, with the advent of various new websites and applications that use interactive and engaging methods to teach your child.

Kids are the unadulterated symbols of purity. They require the utmost care and nurturing to bloom like a beautiful flower. For this to happen it is important to instill in them a sense of righteousness and compassion for others. Let your gift on this Eid add to their joys in abundance and make them a wonderful person as they grow up.