Delicious Christmas Feast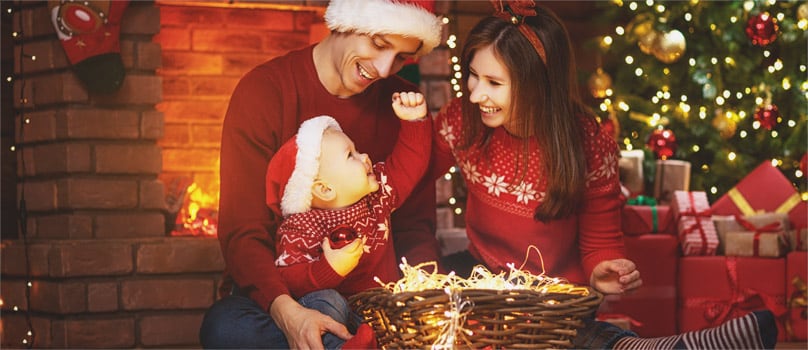 Christmas is round the corner and people are excited to do a lot of shopping, hanging out with friends and families and exchange gifts. Christmas is the perfect time to indulge in family time and preparing lip smacking festive recipes.
Make your Christmas holidays a little sweeter with vegetarian main dish, side dish and dessert recipes -- Vegan Rice, Vegetarian Chilli and Ice Cream. This Christmas wow your guests and make the occasion truly special.
Corn Manchurian Fried Rice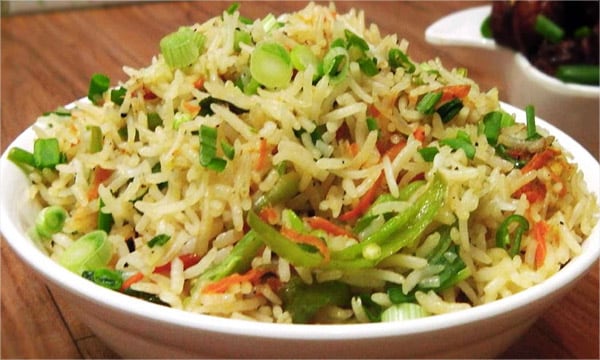 Ingredients
For Corn Manchurian :
Sweet corn - 1 1/4 cups,
coarsely ground Maida - 2 tbsps
Corn flour - 1 tbsp
Ginger garlic paste - 1 tsp
Green chilies - 1, finely chopped
Coriander leaves - 1 tbsp, finely chopped
Salt to taste
Oil for deep frying
For Fried Rice:
Raw rice - 1 1/4 cups,
cooked till each grain is separate or use leftover cold rice Spring onions - 3,
finely chop the whites and greens Carrot - 1,
(small) finely chopped Capsicum - 1,
(small) finely chopped Garlic - 3 cloves,
finely minced Dry red chilies - 2,
tear into pieces Soy sauce - 1/2 tsp
Vinegar - 1 tsp
Pepper powder - 1/2 tsp
Salt to taste
Cooking oil - 1 tbsp

Method

Heat oil in a wok for deep frying the corn manchurian. While the oil is heating, take a bowl and mix in the coarsely ground sweet corn, green chilies, ginger garlic paste, coriander leaves, salt, maida and corn flour. Make small balls and deep fry to a golden brown shade. Drain the manchurian and place on absorbent tissue. Keep aside.
In a cooking vessel, heat oil, add the chopped garlic and saute for a few seconds. Add dry chilies and spring onion whites and saute on high flame for 2 minutes.
Add the finely chopped carrots, beans and capsicum and saute for 7 to 8 mts on high flame, constantly mixing the contents so that they do not burn. Add salt, vinegar, pepper powder and soy sauce and mix.
Add the corn manchurian and mix. Add the cooked rice and mix well. Add salt according to requirement.
Garnish with spring onion greens and serve in a bowl.
Vegetarian Chilli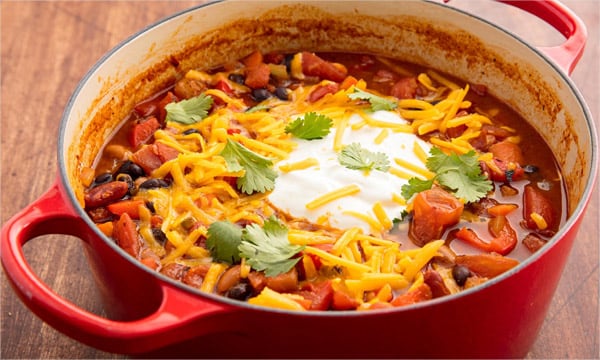 Ingredients 2 medium-sized sweet potatoes
1 level teaspoon cayenne pepper
1 heaped teaspoon ground cumin
1 level teaspoon ground cinnamon
olive oil
sea salt
freshly ground black pepper
1 onion
1 red pepper
1 yellow pepper
1 bunch fresh coriander
1 red chilli
1 green chilli
2 cloves garlic
2 x 400 g mixed beans, such as kidney, chickpea, pinto and cannellini
2 x 400 g chopped tomatoes

Method

Vegetarian Chilli is packed with good stuff so is a great choice for veggies and meat eaters alike.
Preheat the oven to 200°C/400°F/gas 6. Peel the sweet potatoes and cut into pieces. Sprinkle with a pinch each of cayenne, cumin and cinnamon, drizzle with olive oil and scatter with a pinch of salt and pepper. Toss to coat then put them on a baking tray.
Peel and roughly chop the onion. Pick the coriander leaves and chillies, finely chop the stalks and put aside. Peel and finely chop the garlic.
Put the tray of sweet potato in the hot oven to cook for 40 minutes until soft and golden. Put a large pan on a medium-high heat and add a couple spoon of olive oil. Add the onion, peppers and garlic and cook for 5 minutes. Add the coriander stalks, chilli and spices and cook for another 5 to 10 minutes, stirring every couple of minutes.
Drain beans, then tip them into the pan with the small pieces of tomatoes. Stir well and bring to the boil, then reduce to a medium-low heat and leave to tick away for 25 to 30 minutes. Keep an eye on it, and add some water if it gets a bit thick.
Get the roasted sweet potato out of the oven and stir it through your chilli with most of the coriander leaves. Taste and season with sea salt and freshly ground black pepper, if needed. Scatter the remaining leaves over the top, and serve.
Raspberry cheesecake ice-cream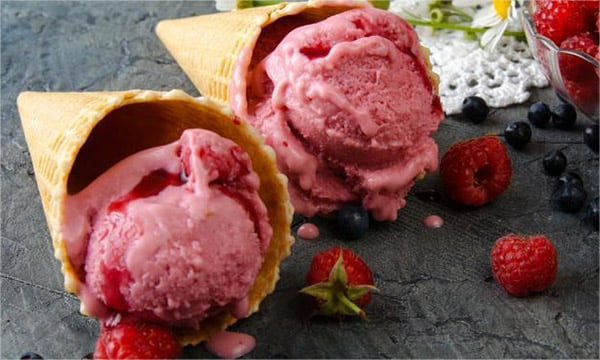 Ingredients
1 x 1.25L ctn Streets Blue Ribbon vanilla ice-cream
2 x 120g punnets raspberries
125g Arnott's Granita biscuits
60g butter, melted
2 x 250g pkts cream cheese, at room temperature
70g (1/3 cup) caster sugar
125ml (1/2 cup) thickened cream
Step 1
Transfer the ice-cream to a large bowl. Set aside at room temperature to soften slightly.
Step 2
Meanwhile, place the raspberries in a bowl and use a fork to mash.
Step 3
Place the biscuits in the mixer grinder and process until finely crushed. Add the butter and process until almost combined. Transfer to a bowl and use your hands to mix until well mixed.
Step 4
Use an electric or hand beater to beat the cream cheese and sugar in a bowl until smooth. Add the cream and beat until just combined.
Step 5
Add the cream cheese mixture to the ice-cream until well combined. Reserve 1/4 cup of the biscuit mixture. Add the mashed raspberries and fold to create a swirled effect.
Step 6
Pour the mixture into a 6cm-deep pan. Sprinkle with the reserved biscuit mixture to evenly coat. Cover with plastic wrap or foil. Place in the freezer for 6 hours or overnight, or until firm.
Step 7
Remove the ice-cream from the fridge 5-10 minutes before serving to soften slightly. Scoop among serving bowls and serve immediately.
You can prepare these dishes at home and make your Christmas lunch really delicious.