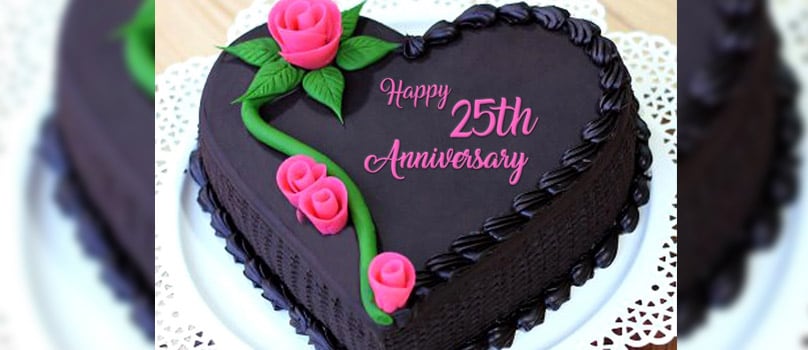 Nothing gets an anniversary going better than a good old cake! Delicious, creamy, glittering baked cakes are all you need to pull off a grand party. If you are living away from home, then sending anniversary cakes to India to your loved ones will do just the trick! But sending an ordinary cake simply won't cut it. Throw some great ideas into it and voila!
At GiftstoIndia24x7.com, we have honed the skills of delivering amazing cakes throughout India over the years. On our website, you will find some of the best and most amazing cakes which will light up any anniversary! So before you get overwhelmed by the massive collection, here are a few choicest suggestions. Send these anniversary cakes to India to make an impression!
Anniversary Chocolate Cake
If you want to make the day as sweet as possible then definitely go with the anniversary chocolate cake. The simple and no-fuss design fits in with everyone and gives a satisfying warmth without the feeling of being over-the-top.
Anniversary Black Forest Cake
What's better than a chocolate cake? A chocolate black forest cake of course! This black forest cake comes with red cherry toppings on white mouth-watering cream. The chocolate black forest graces the taste of the cake by taking it to another level! Send this cake to India from the USA and let your loved ones have a memorable anniversary!
Mr & Mrs 3-tier Cake
Cakes for anniversary doesn't get better than this! A throwback to a grand wedding, this three-tiered cake has it all. Each layer features some exotic artwork which beautifully portrays love. On top of the cake, decorations have been done which gives an overall look. It tastes exquisite and will definitely bring the best of the anniversary out.
Chocolate Truffle Cake
Step out from a simple chocolate cake into something new. This chocolate truffle cake for an anniversary is a perfect choice if you are ready to take the taste of a chocolate cake to the next level. Replete with choco truffles all over, this cake will leave that sweet taste lingering in the mouth long after the day is over!
Heart-Shaped Mango Cake
The flavour of the King of fruits is not to be trifled with. This exotic mango cake is adept at replicating the sweet summer taste of delicious mangoes. The cake comes decorated with floral toppings and a graceful design along the edge. Not just the taste, but the looks are equally excellent!
Heart-Shaped Strawberry Cake
Pink and delicious, the strawberry flavour has a separate fan-base who are devoted to the heavenly taste. This heart-shaped strawberry cake will light up the anniversary for all strawberry lovers. Its classic flavour and taste is a refreshing reminder of the cute memories of life. The toppings of flowers give a fresh look and make it even tastier!
Heart-Shaped Fondant Vanilla Cake
Vanilla cakes are simple yet aristocratic. This cake not only tastes exotic but looks gorgeous as well. The rose frostings as toppings take the cake to another level. It will be hard not to fall in love with this piece of edible art!
These are but a few of the vast choices that you will have when you take a look at our collection. All of these are eggless so you don't have to worry about a thing! What's more interesting is the fact that with us, you can send cakes to India with same-day delivery! So, just take your pick and send it away to your loved one in India!