Send Men's Wear, Perfumes And Watches On Eid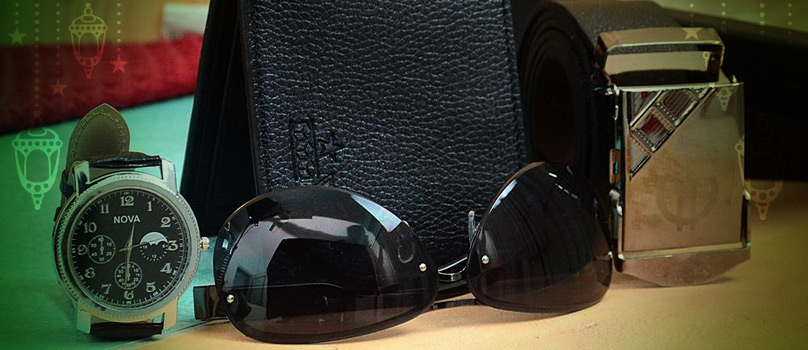 Eid-ul-Fitr or Eid, as it is commonly referred to, is one of the festivals which every Indian look forward to make a splendid celebration. Eid, which is an Arabic word, means 'festivity', so it is but obvious that this principal festival of the Muslim is celebrated with great pomp and show. While grand feasting hold the main part of this festival, family get together and exchanging of gifts cannot go unnoticed. Gifts are exchanged in abundance among family members, relatives and friends. If you are miles away from your family and friends on this Eid, you can send gifts to them with the help of GiftstoIndia24x7.com, which is the last word when it comes to sending gift to India from US and also from other various countries. With our excellent variety of gifts, we assure that whatever gift you send, it will be highly appreciated by your loved ones.
In the section of Eid gifts to India, you will come across a spectacular variety of gift items. Eid Gift Hampers, gift vouchers, sweets, flowers are some the most popular gift categories from where you can send gifts back in India on this joyous festival. However, if you are looking to send gift someone in particular, for example, your husband or father, brother and boy friend, then you can go for the category 'Gifts for Him', which is also filled with varied gifts.
Wearing new dresses on any festival is considered customary, so on the festival of Eid, you can send apparels of various types back in India. Both casual and formal wear are stocked in our website. If you want to send some formal wear, you can choose from trousers offered by Park Avenue, Moustache and more, and shirts of different unique designs and soothing colors. With these, you can team up neck ties as well. In case you want to send casual wear, you can select from different colors of jeans.
Apart from apparels, you can also gift perfumes to the man of your life on this Eid. Perfumes of several noted brands like Calvin Klien, Burberry, Giorgio Armani, Dior Homme, Lacoste and more are offered by us. If your husband prefers using perfumes having strong fragrances then you can send the same with the help of GiftstoIndia24x7.com. In case, the recipient has any brand preference, then you can send perfumes on Eid keeping in mind the preference of the recipient.
Along with the apparels and the perfumes, if you can couple watches, then it will surely complete the gift. Since, watches are the most favored and widely appreciated gift item, you can send watches on Eid to your husband, father, brother or boy friends through this prominent online gifting portal. Our watches collection is one of the finest. We offer watches from some of the top brands that include Titan, Fastrack, Timex and more. Watches of various models are offered by us on the festival of Eid. From sleek watches, to trendy ones, classic timepieces and many more are available in GiftstoIndia24x7.com.
Since the year 1999, when the online gifting portal, GiftstoIndia24x7.com was formed, we have been helping the NRIs to send gifts to India on different festivals and occasions. Our excellent service coupled with awesome variety of gifts has made GiftstoIndia24x7.com one of the leading e-stores. Moreover, if you face any problem while sending gifts to India, you can call our customer care executives and also chat with them. So, on the festival of Eid, get ready to send the above detailed gifts and more through GiftstoIndia24x7.com.