Send Gifts to India Online on Navratri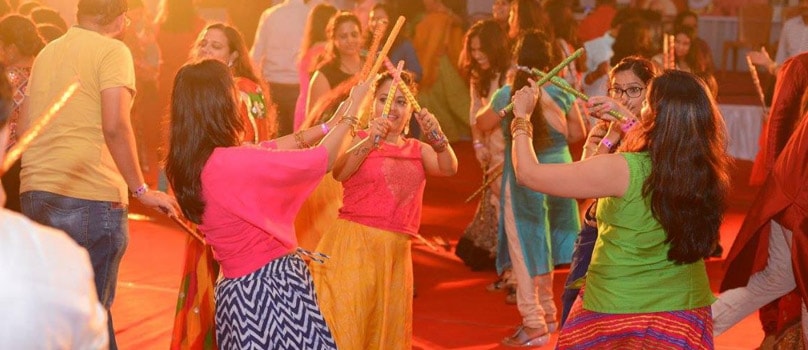 Image Credit : tourmyindia
Navratri is the festival of nine nights. Though the festival has its roots in the north-western parts of the country, today Navratri is celebrated all throughout India. With growing presence of the Indians all over the globe, festivals like that of Navratri is no more confined within the geographical boundaries of India. Just like any other festive occasion in India, Navratri also scripts a thanksgiving ceremony to the annual seasonal changes in the expectation of bountiful of food crops. In the month of Ashwin of Hindu calendar is when Navratri is celebrated with great fervour and zeal.
The festival of Navaratri is associated with worship of nine forms of Devi Durga for nine nights. The manifestation of the deity is in form of Shakti. All through the nine nights, devotees pay homage and perform various rituals in reverence of Goddess Durga. Navratri commences on the first day (pratipada) of the bright fortnight of the lunar month of Ashwin. In Gujarat, Navratri is celebrated with the famous Garba and Dandiya-Raas dance. Since the past few years, the Government of Gujarat has been organising the 'Navratri Festival Celebrations' during these nine days. The Gujratis participate in this celebration with great enthusiasm. It is also popular all throughout India and among Gujrati communities, as settled all around the world, including UK and USA.
Navratri is divided into sets of three days to adore three different aspects of the supreme goddess - Durga, Lakhsmi, and Saraswati. Observing fast and offering prayers are most common traits during this period for the protection of overall health and prosperity. A period of introspection and purification, Navratri is traditionally an auspicious and religious time for starting new ventures. Gifting during this time is also held to be very special. Nowadays, with the availability of a host of e-gifting sites, it has been a lot easier for someone to send gifts to India in Navratri.
One such a site that facilitates this global requirement of the day is GiftstoIndia24x7.com. To throw a light on some alluring yet trendy gifting ideas, as introduced herein, is no other but chocolates. Since ages, these delectable confectioneries have floored innumerable human hearts. As it is a customary practice to regale one another with sweets in any mirthful occasion, the second to suggest is of course, some exclusive sweet treats to send on this auspicious festival in India. Then there are different types of other gifts in the likes of jewelleries or gift vouchers, etc., that are innovative as well as alluring. Keeping in view the auspiciousness of the day, you can also send an exclusive collection of spiritual gifts for your friends and family during this time of the year.
With many of us living offshore, the Indians always eye for some reliable avenues to send their gifts for near and dear ones across the continents. Mutilating the barriers of time and distance, this aforementioned e-gifting site also comes in handy in reuniting two loving hearts on any such a celebration. The USA, being one of the favorite overseas destination, Indians today eye for some reliable avenues to send their Navratri gifts to USA. So be it the USA or India, gifting your loved ones in Navratri is sure to help you to secure a special berth in their hearts. With a plethora of exclusive gift ideas, you are sure to find out the best if you are with GiftstoIndia24x7.com.
The celebrations of Navratri represent a reaffirmation of hope, a renewed commitment of love and goodwill. Navratri is a religiously sanctioned celebration provoking the outburst of the simple joys of the human life. The gesture of gifting, attests this very theorem to the core. To help you to attain this accomplishment, the availability of GiftstoIndia24x7.com will definitely come in handy to ferry your Navratri gifts to India on time. So convey your deepest love, care, and affections to your friends and family in India on this very day and let them feel your attentive gesture. Start your preparations right now, and make this upcoming festival of Navratri, an occasion to be cherished till eternity.