Make Navratri Special with 5 Wonderful Gift Ideas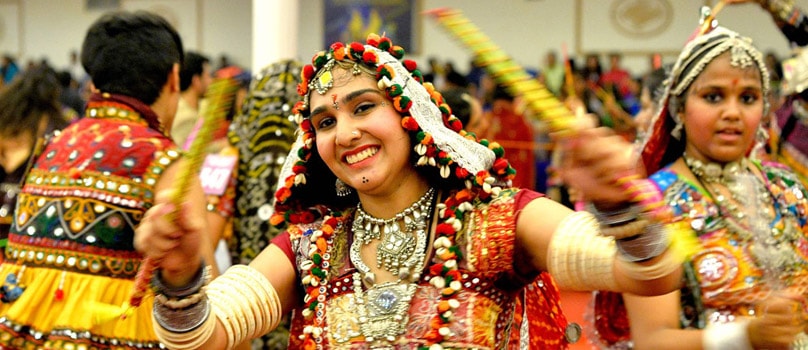 Image Credit : globaltimes
Navratri is a time of joy and merriment and it is celebrated with a lot of zeal in India and abroad. The festival takes place for a period of 9 days and nights and hence the name. It is customary for friends and relatives to exchange gifts during this festive season. If you are unable to be with your family on this Navratri, you need not worry about missing out on everything. You can make this nine nights of enjoyment extra special for them by sending attractive gifts. Through our online gifting portal, you can send cheap gifts to India which are attractive and will easily fit into your budget. To make the job more easy for you, we have selected 5 meaningful Navratri gifts to India that will be loved by your friends and family in India.
1. Clothing:
Women love wearing new clothes, especially during special occasions and festivals. During Navratri, they have a busy time shopping and choosing dresses for so many days of festivities. Thus, if you gift your mother, wife or daughter with a beautiful sari or salwar then they will thank you profusely for it. Apart from sarees and salwar kameez, you can also get beautiful lehengas on our website. The Plushy Beige Viscose Georgette Anarkali is perfect for the occasion. This beige salwar kameez has beautiful red stitchwork all over it along with beautiful stone work. Your wife or sister in India will definitely love this dress and think about you whenever they wear it.
2. Chocolates:
Children like chocolates a lot and hence it is gaining popularity as an apt gift for any occasion. There is wide selection of chocolates on our website for you to choose from. You will also get handmade chocolates here which give you a different and authentic chocolaty experience. A gift of chocolates will definitely be loved by the kids, as well as adults, in your family in India. You can choose Sweet Red Teddy with Chocolates chocolate hampers for your young ones in India. Apart from containing yummy Cadbury chocolates, there is also a cuddly red teddy bear which the child will never let go.
3. Dry Fruits:
Dry fruits make a great gift on any religious festival and they are loved by people from all age groups. Their crunchy salty sweety taste makes them a much longed for delicacy not only in India but also abroad. There are a lot of different kinds of dry fruits available on our website like almonds, kaju, pista, raisins, walnuts and mango pulp candies. These are also coupled with delicious chocolates. The Delectable Cashew Treat looks very pretty and is full of crunchy sweet cashew nuts. The box itself is a wooden designer one and has a beautiful lace flower arrangement on it.
You can send hampers to your friends and family in India. A hamper contains a collection of gifts which are admired by all. The hampers available on our website are filled with tasty goodies and lots of other things. Navratri hampers are filled with cakes, flowers, fruits, dry fruits, chocolates, sweets, cookies, wall hangings, teddies, soft drinks, bhujia and a lot more. These items, available in combos, will surely be loved by the family you send it to. You can choose the Kesaria Boondi Ladoo Combo which looks like a riot in yellow. There is the delicious kesaria boondi laddoo which is yellow in colour. The beautiful flower bouquet that is the other part of this combo contains mainly yellow along with a few red carnations, roses and gerberas.
5. Sweets:
No Indian festival is complete without sweets and therefore they make one of the best gift ideas. Gifting sumptuous sweets to your friends and family is a great idea. There are a lot of delicious sweets available on our online gifting portal. Some of them are motichoor laddoo, kaju pista barfi, kesar peda, rasgulla, gulab jamun, rajbhog, sohan papdi, kheer kadam, kaju pista roll, chocolate barfi and a lot more. The Tempting Mawa Bati Thali is a yummy treat that will definitely be loved by each and every one of those who are near you. This delectable mawa sweet is decorated with edible silver foil, edible orange colour and chopped pistas.
This Navratri send online gifts to India for your near and dear ones. You can send these and many other gift items for your friends and family from our website. You can also send personalized gifts to India from our personalized gifts section where you will find many interesting options.