Special arrangements and preparations on Holi
Amongst various festivals celebrated in India, Holi is the most significant and ancient festival. It is the spring festival celebrated by Indians with great pomp, pleasure and zest. A day before Holi celebration, a bonfire is made and burnt with the effigy of "Holika" that symbolizes the triumph of good over evil. Though Holi is celebrated throughout India, in Mathura and Benaras the celebration extends for a week. However, those Indians who reside in foreign lands miss the chance to be with their family on Holi. They desire to wish "Happy Holi" to their dear ones by sending gifts. In such situation, they can take the assistance of the online stores to send gifts to India on Holi. Amongst various online store, GiftstoIndia24x7.com is an exclusive one from where you can send gifts to India. Now you must be wondering as to when is Holi in 2012. Note that this year Holi has fallen on 8th March.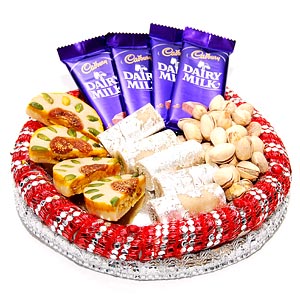 If you want to make special preparations on Holi, then you can follow these ideas. Since, colors are the main highlight of this festival, you can wear a white dress to manifest the different colors of spring season. It is important to use eco-friendly Holi powder, that are made from the extracts of flowers, bloomed during Spring season. If you want to enjoy the day with your family, friends and neighbours, you can gather in a particular area that can be in the garden, lawn, small play ground or terrace. Decorate that area with "Samiyana" and loud speakers. Arrange large tables with heaps of colorful "gulal" or "abbera" so that everyone can enjoy, by applying "Holi" on each other.You can also play folk songs or "dholak" and dance along the beat of the songs. The tradition of drinking "bhang" and "Thandai" is very popular on Holi, so you can also make arrangements of it. Besides this, dancing and singing is also a main part of this festival where every one can get involved in this festive spirit by drinking glass of "bhang" or "lassi" along with having sweets or dryfruits. You can also send Holi gifts to India, to your dear ones and add more pleasure to this festival.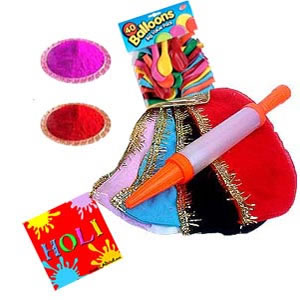 For children, Holi celebration includes lot of enthusiasm and joy. They start the preparation for Holi, a week before the actual celebration. So, if you want to make you kid, little brother or sister's Holi celebration memorable, you can send exclusive Holi gifts to them from our site. You can arrange children Holi party in the garden, lawn or any other place close to your residence and keep items such as Pichkaries, small buckets filled with colorful "Holi" and "abeera". Allow every kid of the locality to gather in that place and enjoy the festival at full spirit. You can also fill balloons with water so they can throw them on each other. Since "bhang" can be harmful for kid's health, you can arrange for them "Lassi", "Thandai" or "Jaljeera" along with boxes of mouth-watering chocolates or sweets.

Sweets hold special significance on this festival. You can make some special sweets such as gujiya, mathri, to greet your close ones on Holi. At lunch, you can prepare some special traditional Holi dishes such as Vegetable Pokara, Aloo Chat, Onion Pokara, Papri Chat, Kanje Ke Vada, Dhai Balle and Kesar Chawal. You can also make them feel your presence by sending delicious sweets such as Kaju Barfi, Peda, Motichur Laddoo etc as gift to India.

These ideas as well as gifts will surely assist you in making Holi 2012 a grand celebration. So, send gifts to India from our site. Our proficient delivery service will surely assist you in delivering the gifts on the right time.