Top Ten Gift Ideas For Her On Holi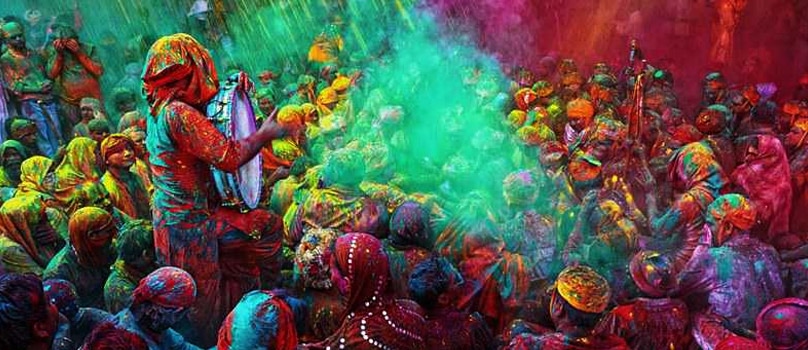 Image Credit : holidify
The gracious Spring season is initiated with the melodious call of the Cuckoo bird. Holi is the most colourful festival of India. It marks the end of winter taking place on the day after the full moon in February or March. This ancient festival of India was originally named as "Holika" which evolved several centuries before Christ. Primarily Holika was celebrated by married women worshipping the full moon Raka for the happiness and well-being of their families.
Colour adds a zing to our life and this festival brings that vibrancy and celebration without any distinction of caste, creed, color, race, status or sex. Women plays quite a similar role compiling our life with love, togetherness, colour and bliss. Life often becomes colourful with the sudden emergence of wife, sister - in - law, bhabhi etc in our life who creates colourful rainbow of joy and happiness. This way holi and women often attributes similar effects on our life.
Traditions & Rituals of Holi
Holi celebrates the victory of good over evil by burning demoness Holika. Large bonfires are set days before the festival of Holi to burn away evil spirits. This colourful festival is associated with the Legends of Lord Krishna who started the tradition of playing with colours by applying colour on his beloved Radha and other gopis. A few parts of India, especially Bengal and Orissa, celebrates Holi as the birthday of Shri Chaitanya Mahaprabhu. In this vast culturally diverse country Holi is celebrated by different names in the various states.
In Barsana / Mathura, districts of Uttar Pradesh Holi is recollected as Lath Maar Holi.
In Haryana this colourful tradition is called the Dhulandi Holi
In West Bengal people assumes Holi as 'Dol Purnima', 'Basant Utsav' or 'Spring Festival'.
In Maharashtra this festival of colours is commonly known by the name of Rang Panchami
In Sikh culture they celebrate the next day of Holi as Hola Mohalla.
In the north east, Manipuris celebrate this colourful festival for six days which is famous as the Yaoshang Festival.
In Tamil Nadu people know Holi by three different names- Kaman Pandigai, Karma Vilas and Kama-Dahanam.
Unique Gift Ideas for Her
Holi unfurls joy and strengthens the bond of love and friendship. This festival binds our secular society together spreading fun and bliss in the atmosphere. Plunge and delve into the world of colour forgetting all the wrath and bitterness of life. Gift exchanging is the most popular and traditional custom of this festival which has been coming down since ages along with a mind blowing makeover. Gifting options are huge now. Women being an integral symbol of this festival receive varieties of gift items. A few examples of wonderful gift ideas for the lady of your life are mentioned in this article.
1. Sweet Thali
The oldest tradition of this colourful festival is exchanging sweets among our acquaintances. Holi indulges a huge variety of specialities among sweets like gujiya, malpuas, mathri, puran poli, dahi vadas etc. Thandai, a sweet drink which often come with a tranquilizing effect is another speciality of this festival. After the whole day celebration people exchange sweets hugging each other to convey their warm wishes for Holi. Thus sweets play an important role in this festival. Sweets are necessary to be send along with any item you want to gift on this auspicious spring festival.
2. Gulaal or Holi Powder
Utilize this fantabulous festival to emulsify her mind or mood by planning a colourful and playful event. Send her the vibrant colours of holi powder or gulaal to instigate her desire to enjoy Holi immersing in the variant colours. Gifts are impressive items which fabricate happiness and gulal is the primary symbol of this colourful festival. So, never forget to send her a gulaal package along with the other heart warming gift items.
3. Flowers and Cakes
Holi celebrates the triumph of good over evil. Flowers speak a lot and blooms in different vibrant colours with various meanings. Women loves to own an intricate bouquet of colourful flowers. Holi is the ideal occasion to send such a colourful bouquet along with some gulaal bringing immense joy in their heart. Cakes are for celebration and every occasion thus remains incomplete without it. Send a majestic bouquet of coloured blossoms along with a yummilicious cake delighting her heart with glee.
4. Cosmetics / Beauty Products
Holi comes with fun and rejoicement. But the post holi consequential effects often terrifies women the most. The various colours used during the festival stain our face and body making them look quite funny and a bit horrible as well. Galvanize your lady by gifting her the perfect set of cosmetics enhancing their beauty. Help them to efface the colour stains through some wonderful skin care products on this colour filled festival.
5. Apparels
Apparels are the most preferred and adored gift items for women. This holi send her a colourful ethnic dress which will act perfect in this occasion. A white salwar suit along with a colourful dupatta will also act as a wonderful gift for her to look graceful on this specific occasion. You can go for apparel vouchers as well in order to make sure that she buys dresses according to her preferences. Gifting is an age old tradition of this lovely festival. Enchant her heart with joy and fun gifting her a pretty apparel set.
6. Wrist Watch
Gifts are simple ways of winning over our lovables heart. Manifest your love for them on this colourful festival by sending them those lovely gifts which they will love to own. Watches are one of the most engaging and lovable gift item. Wristwatch does not only displays time but even exhibits a mantra of style through it. Captivate your lady's attention with one such stunning wristwatch lending her a smart and stylish avatar on this playful occasion.
7. Gift Hamper
Gift hampers are a collection of impressively remarkable gift items that comes along with a basket stocked with joy and fun. Fabricate a reason to feel merry for the lovely women of your life by sending them one beneficial gift hamper filled with different hues of gulaal. Sweets are a must for this propitious occasion of Holi. Amalgamate a lovely gift hamper for the adorable lady of your life and enchant her with joy and bliss.
8. Home Decor
Drench in the splash of colours in this colourful festival indulging your loved ones into immense joy and happiness. Apart from colours and sweets, home decor accessories are also wonderful gift items which will charm the lovely ladies of your life. Spiritual showpieces, scented candles, carpets, curtains and colorful drapes can serve as suitable Holi gifts for the women.
9. Jewellery
Jewelleries are the most precious and lovely gift that any woman will love to own. Gifts spread an additional aura of merriness to this colourful festival of Holi. Women plays an important role in everyone's life. From being a mother to a wife she plays a very significant character. Compliment her showing your love and honour for her through heart warming gifts. Jewelleries reveal her identity, dignity and charm. Gift her a simple, smart and eye-catching jewellery set along with some herbal gulal making her holi perfect filled with laughter and glee.
10. Wall or Door Hangings
Most of all women love to adore their household on this special festivals. For Holi, wall hangings of Lord Ganesha or Lord Krishna makes a good option. Traditionally crafted door hangings are also cherished as wonderful Holi gifts. Make her happy by gifting her one such unique and beautiful wall or door hanging on this auspicious occasion.
Festivals and occasions come with opportunities to express your love and feelings for someone. Holi is the most colourful festival of all which exhibits enormous happiness and joy. This remarkable occasion is celebrated with our loved ones forging tremendous jollification into our lives. Gifts are the best way of impressing your adorables. Heart touching gifts can express your love in the best way to your special lady. Women plays a vital role in our life. Respect them and lend them a sense of security for having a peaceful life. Spend a safe and colourful Holi with them making their life as colourful as Holi for ever.