Make Him Feel Special With 5 Amazing Gift Ideas for Him on Holi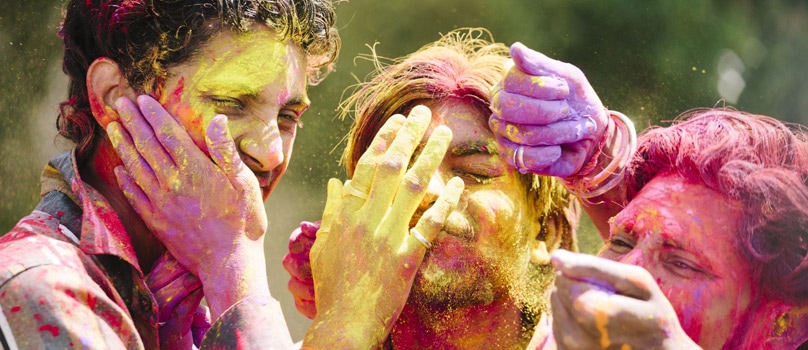 Image Credit : tripsavvy
Holi, the festival of colors welcomes the arrival of the Vasant or Spring season. This Indian festival is celebrated in the season of Vasant, the time when winter ends and summer starts. Like many other Indian festivals, Holi also indicates triumph of good over evil. It is believed that Holi had been started several centuries ago and is therefore considered as one of the oldest Indian festivals. Since many years, Holi is celebrated in all over the world with great joy, excitement and enthusiasm.
The festival of colors is knocking at the door. So, time for you to celebrate the excitement and fun of this popular Indian festival. Convey the message of love and feeling of respect that you have for your father, husband and boyfriend through exclusive holi gift ideas. Make the recipient feel special with some amazing gift ideas for him on Holi.
Colors and Pichkaris:
A whole set of holi colors which includes sprays, magic colors, water colors and gulal are the most appropriate gift for your loved ones on this festival of colors. Celebrate Holi with great joy and excitement with your near and dear ones by gifting them pichkaris which are uniquely designed on this auspicious festival.
Men's Personal Care Products:
Personal care products for men can be an ideal gift item for him on this oldest yet popular Indian festival. Make this Holi special and memorable by gifting him a bag of personal care products which includes branded deo, shaving cream, after shave lotion, shaving brush and soap.
Sweets:
No festival in India is complete without sweets. Show your love, care, respect and affection for your husband, boyfriend and father by gifting them a box of tasty sweets to India. Sweets can enhance the spirit of festivity and therefore is considered as one of the best Holi gift ideas.
Gift Hampers:
Gift hampers to India is the best way to make your loved ones feel happy on this festival of colors. Make him smile on this Holi with an exclusive gift hamper which consists of all products of his choice and requirement like men's body spray, shaving cream, after shave lotion and raizer.
Apparel:
Gifting an exclusive off white Kurta Pajama with embroidery work can make him feel special on this auspicious festival. Gifting your husband, boyfriend and father well designed and well finished apparel on this Holi is a fantastic idea.
These amazing Gift ideas for him on Holi strengthens your relations with the special persons of your life. Stay connected with the persons you care about by sending gifts to India, if you cannot be with them on this Indian festival of colors, Holi.