Flowers as a Gift Idea on Women's Day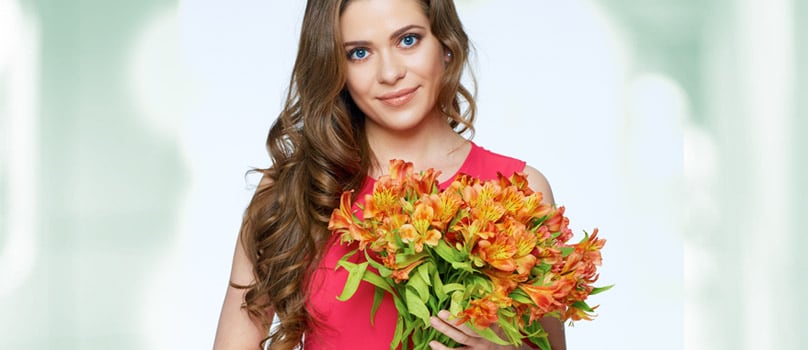 "You educate a man, You educate a man. You educate a woman, you educate a generation." - Brigham Young
A society would never come into existence without the contribution of women. No advancement is possible without education. A child learns his first lesson in his mother's lap. Women play a crucial role in the emergence of a society. The recent societal changes have opened up lot of avenues for women. International Women's Day resembles a movement that is for every woman and every girl. This day pays tribute to the invincible spirit of women across the globe.
The history of Women's Day celebration goes back to early 1900s when repression and inequality compelled them to voice their campaign for change. Every year, International Women's Day is observed on 8th March. It reminds us that women and girls around the world are able to bring about pivotal changes for overall development of the society.
Flowers and Women
Flowers are adored for their beauty and feminine quality. In Asian and Western classical art flowers symbolise women. Many cultures around the world equate flowers with femininity. In ancient Egypt, rich and powerful women used to wear floral laurels and necklaces. In Roman and Greek religion, flowers are associated with Goddess Flora and Goddess Chloris respectively.
The delicacy and gracefulness of flowers have made them popular among women and girls. The charming and fragile beauty of the blossoms are often associated with the benefactress. Getting the special woman in your life a bouquet of flowers will delight her like anything. Moreover, a woman feels loved and wanted receiving blooms of her preference.
Flowers for Women's Day
"When you have only two pennies left in the world, buy a loaf of bread with one, and a lily with the other." - Chinese proverb
No one can go wrong with flowers when it comes to gifting. A bouquet of flowers conveys joy, romance, love and appreciation. Most of the people send flowers to the special women in their life to voice their adoration. Flower shops work around the clock to meet the demand of flowers on Women's Day. According to Floriography (the practice of assigning meanings to flowers), different flowers have different symbolic meanings. So one should consult with the florist prior to sending flowers to the special lady in his/her life. Smriti Dalvi, MD & CEO of Florista says that the first thing people tend to buy as a gift on the spur of the moment is a bunch of flowers. Now - a - days there are several online portals like GiftstoIndia24x7.com to deliver flowers almost anywhere in India on the same day. Some of the most popular choices of flowers as Women's Day gifts are Roses, Orchids, Lilies, Carnations and Gerberas.
Roses
Roses symbolise eternal love and beauty. Greeks and Romans associated rose with the Goddess of love. In Ghazal (a type of Persian poetry), the enchanting beauty of the rose inspires the longing song of the nightingale. Roses come in various colours.
Red roses stand for beauty and perfection and they are the best conveyor of your feelings to the special woman in your life. Pink roses express admiration and complement the grace and elegance of the benefactress. You can gift your best friend a bunch of yellow roses to strengthen your bonding. White roses stand for reverence. Orange roses and lavender roses symbolise enthusiasm and enchantment respectively. Roses in exotic arrangements are the best gifts to pay tribute to the women on the special occasion of Women's Day.
Orchids
Orchids symbolize eternal elegance and have transcendental values. They stand for beauty, charm and thoughtfulness. Orchids as gifts are admired all over the world. Their enchanting fragrance enthralls the receiver and makes her feel ecstatic. Orchids are generally available in purple, pink, blue, yellow, white and mixed colours. Show your admiration to the women in your life with a bunch of vibrant orchids.
Lilies
These majestic flowers are related with feminine qualities like vulnerability and innocence. According to Greek lore lily symbolises motherhood. White lilies are associated with Virgin Mary, the Queen of Angels. Lilies also come in yellow, orange, pink, purple and blue colours.
These audacious flowers stand for the freedom to be ourselves. Gift the lady of your life a bunch of lilies to show your respect for her as an individual.
Carnations
Carnations symbolize admiration. The sprightly colours of the carnations make them popular among women of all age group. A bouquet of carnations is the best way to convey regards to the esteemed woman in your life.
Gerberas
Gerbera daisies represent innocence and purity. They can make anyone delighted because of their cheerful appearance. These blossoms are available in a sprightly rainbow of colours like bright pink, sunny yellow, ruby red and lots more. Make an everlasting impression on the benefactress with a bunch of vibrant gerberas.
The struggle for equality for women gave birth to the celebration of International Women's Day. The significance of the day goes much beyond the concept of feminism. It should be respected as a collective effort to protect human rights.