Significance of the Common Things we do on Diwali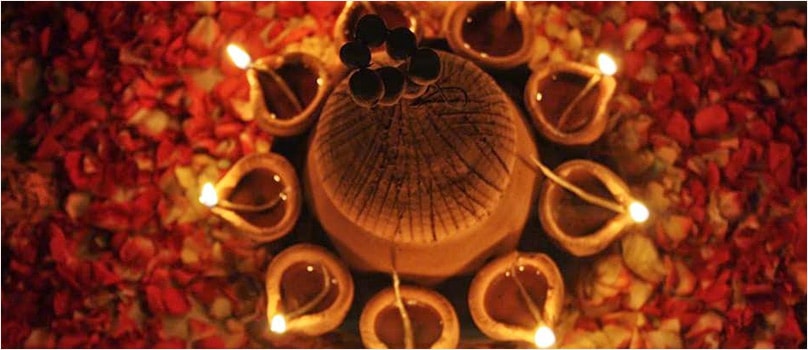 The festival of lights, Diwali, is a very colourful celebration that is celebrated throughout India in different forms. This festival has been annually celebrated on the amavasya in the Hindu lunar month of Kartik. Diwali celebration commences two days in advance of the day and it continues for a total of five days. This is a time of gift giving and various gifts as well as sweets are exchanged between friends and families. There are also a variety of other customs and traditions that surround this festival which we follow. These rituals have deep cultural backgrounds behind them and they are filled with mythological prospects.

Importance of Diwali Rituals

The celebration of Diwali starts with the celebration of Dhanteras which is a celebration of wealth. However, we must keep in mind that the observance of Dhanteras is not a separate festival. It is only the first day of the celebration of Diwali and as such begins this five day long festive event.
The same is the case with the festival of Bhai Dooj that is celebrated two days after Diwali. Bhai Dooj ends the festivities of Diwali and it is a celebration of the sweet relationship between brothers and sisters. During Bhai Dooj, the sisters apply tilak on their brothers' foreheads and pray for their prosperity and longevity.
Goddess Lakshmi is the reigning Goddess of this festival and a Lakshmi Puja is organised in most houses in the evening. On this occasion, it is actually the marak incarnation of the Goddess Lakshmi that is worshipped. It is believed that in this form Goddess Lakshmi is capable of destroying all kinds of evil and bring happiness.
It is believed that Goddess Lakshmi prefers clean houses and only enters such houses that are thoroughly clean. Therefore, a ritualistic cleaning of the house and workplace is carried out before the festival of Diwali. A broom is also kept nearby while the worship of Goddess Lakshmi is done as a symbol of cleanliness.
The lighting of diyas on this occasion is also a very fun event that everyone enjoys to do in the evening. Goddess Lakshmi prefers a house that is brightly lighted and that is why these diyas and candles are lit. Shri Ram returned to Ayodhya on this day with his wife and brother and the diyas are also burned as symbolic of this.
Beautiful decorative rangolis are also drawn all over the house on the occasion of Diwali by the family. Rangolis are created out of coloured powders while flowers of different colours are also used. It is said that these colourful representations hold the power to repel all kinds of negative energy.
Playing card games is also very customary for the festival of Diwali and many people opt for this. Goddess Parvati is believed to have played dice with Her husband Lord Shiva on this day and She won the game. In Her elation at winning the game, the Goddess decreed that anyone who indulges in playful gambling on this occasion will be blessed with wealth throughout the year.
Diwali Gifts to India Ideas

This online gift store showcases a variety of Diwali mugs that you can send for your loved ones in India. The Personalized Dark Brown Colored Diwali Mug is in a dark brown colour and it can be personalized with your dear one's image. Various kinds of Diwali essentials are also available on this online gifting portal that can be used for celebrating Diwali. The Diwali Crackers Combo is a collection of Diwali crackers that consist of sparklers, fire pencils, colourful bombs and flower pots. You can also send Diwali Gift Hampers for your family and friends on this occasion from this gifting site. The Diwali Sweets Thali is a Diwali mithai hamper having badam barfi and kaju phool on a handmade tray.
This Diwali can prove to be a very grand event for both you and your family as now you can relate even more to the customs. You can also send online gifts to India if you are away from your dear ones during this festive season. If you want to send gifts on other occasions like Dhanteras and Bhai Dooj then such gifts are also available here.