GiftstoIndia24x7.com brings for you a fantastic collection of Barbie and Frozen cakes that you can send as a gift to India for your daughter. There are many types of gifting options available in the gifts for kids section of this online gift store. The category on cakes to India is also noteworthy as many varieties of these gift items have been showcased. The kids cakes to India feature various types of popular kids characters and cartoons in the form of cakes. These India gifts can be sent for the children everywhere in India on time and in a hassle free manner. It is also possible to deliver gifts to India from USA as well as other countries through this online gifting portal.

The Frozen Cake features the very popular kids animated movie Frozen that is from the house of Disney. The movie depicts the story of two sisters, Elsa and Anna, and this is reflected on this cake. The cake comes in an icy blue colour that will remind one of snow and winter having a heart shape. The cake has a round base on which a message can be written with an image of Elsa and snow capped mountains in the middle.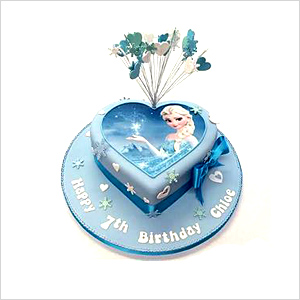 The Barbie Cake is in the shape of the famous Barbie doll that is much loved by children, especially girls. The cake is an eggless one that comes as a large Barbie doll on a sky blue coloured base on which the doll stands. The doll is wearing a pink coloured flowing gown that has been decorated with star shapes all around. The face and hands of the Barbie have been created out of skin coloured icing with a golden coloured hair.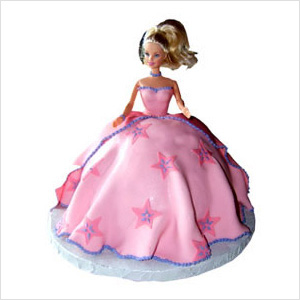 The Unique Butterfly Barbie Cake also showcases Barbie doll and here she is in the form of a butterfly. The wings of the butterfly have a green coloured base with the top portion being pink in colour. The wings are composed of several petals that have black borders and the doll is also wearing a similar skirt. Barbie can be seen here wearing a pink top that matches her skirt and the cake comes in a completely eggless form.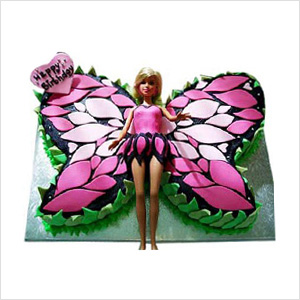 While talking about this exclusive range of for little girls, Mr. Amit Desai, the CEO of this organisation, states that, "Sending gifts is far more easier when you do it online and the process is also very time saving. This wonderful collection of Barbie and Frozen cakes from GiftstoIndia24x7.com can make any girl's day. You can also get a variety of other gifts here for both kids and adults on different occasions and festivals."