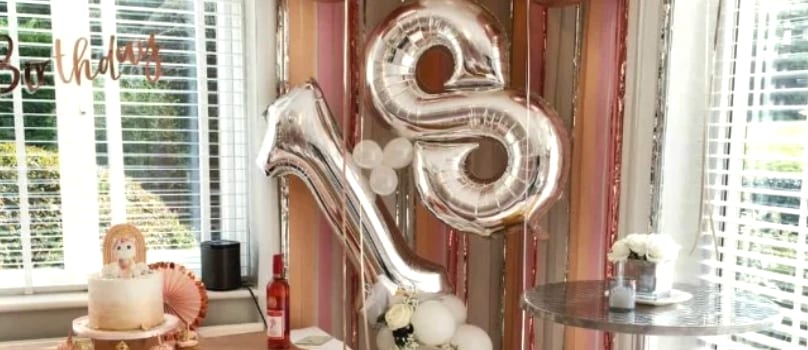 Image Credit : Venuelook
Though people continue to grow and evolve in various phases of life, 18 is often considered the official age of maturity. It is the transitional age and considered a stepping stone to adulthood. The eighteenth birthday is considered a milestone as it comes with a sense of freedom along with responsibilities. As your daughter steps into adulthood, it is important to treat her like a grown-up without letting the childlike innocence in her fade away. The little girl who once held your hand with her little fingers wherever she went is now ready to embrace a life full of adventures. You have to make sure that the gifts that you give her on her 18th birthday give her a sense of all the wonderful things that await her in the adult world.
1. Perfumes
The transition from a little girl to a young lady is exciting. A suitable fragrance will make this transition fascinating. As she steps out of home, it is important to wear a fragrance that defines her character the best and makes her personality stand out. A Perfume could be an incredible birthday gift option for an 18-year-old girl. It will give her the much-needed confidence to embrace adulthood and present herself in front of the whole world. Her favourite fragrance will enable her to leave a strong impression in the minds of people and leave them in awe.
2. Diamonds
Image Credit : Vaibhab Jewellers
The eighteenth birthday is the perfect time to let your daughter know that she is precious and worth everything beautiful in life. A 18 year old girl will doubtlessly feel blessed when she will receive her first diamond from her parents. Be it diamond earrings, rings or pendant, this gift will convey how special she is to her parents. Choosing the perfect jewelry that compliments the personality, lifestyle and fashion sense of your daughter might seem to be a conundrum. But diamonds have a class of their own and have a timeless appeal. The memory of this magnificent gift will be etched in her heart forever. Something as precious and priceless as diamonds would also make her even more responsible. Every time she wears this piece of stunning jewellery in life, it will remind her of her eighteenth birthday and bring back beautiful memories spent with family.
3. Sophisticated Mobile Phone
As your daughter turns eighteen, she comes out of her comfort zone, starts attending college, meets many kinds of people and makes many friends. She is ready to accept life in its throbbing impulses and take on the world. During this phase, gifting a good mobile phone might turn out to be very useful. A good smartphone, well equipped with cutting edge technology helps her to stay connected to the world. With its advanced features, a sophisticated cell phone will come in handy in everyday life. The usage is not restricted to messaging and calling. With a wide array of functions and applications, this digital device will help her use social media effectively, attend online classes, access a lot of information, listen to music, watch movies and a lot more!
4. Self-Care Gifts
Your daughter is a grown-up now. Her eighteenth birthday is the perfect time to teach her the importance of self-love. This is the phase when she will go out in the sun on a daily basis and might be subjected to pollution or stress. The face you present to the world conveys a lot about you. Skincare becomes imperative beginning from the age of eighteen. Skincare products will help her fight common skin problems like acne, blackheads, skin tan and add lustre to the skin. Eighteen is the age when most young girls get fascinated with makeup and other beauty products. Giving her make-up products will also make her feel like a young adult and help her experiment with fashion.
5. Hobby Related Gifts
Image Credit : creativiu
Growing up, having a hobby plays a vital role in the growth of an individual. It helps an individual to discover one's true potential and offers a creative outlet. As a parent, you could motivate your daughter to work on her hobby by giving her hobby-related gifts. If she is fond of baking, you can give her baking equipment like measuring cups, cake tins, icing smoother, electric mixers and lots more. In case your daughter is a bibliophile, you could give her books of her favourite genre and author. You can also give her a gardening accessory kit comprising essentials like rare seedlings, gardening books, rake, lawn shears, gloves and other tools if she is fond of gardening.
6. Camera
Image Credit : Photography Blog
Moments are fleeting while certain memories stay with us forever. In life, making memories of each moment is highly important. A camera plays a pivotal role in preserving memories and immortalising the precious moments of life. It often changes the way we look at the world and helps us develop an eye to find beauty in the simplest of things. No matter where your daughter goes, a camera will enable her to document various significant events of her life and revisit these memories later.
7. Exclusive Pen
Gifting a pen to an individual is a gesture of showing respect and admiration to his intellectual faculty. Especially, when a parent gives a pen to his daughter who has just turned eighteen, it holds a special value. An exclusive fountain pen is a classic and scholarly gift which holds a timeless appeal. This gift will turn out to be a precious possession for her. Most importantly, she will use this pen in all the important events of life and keep it close to her heart.
8. Personalised Video
Image Credit : Independent.ie
Children grow up even before you realize it. There are various stages of growing up and each stage is like a significant milestone. The first word uttered by the child, the first step, the first smile, the first day of the school, first holiday - every moment is blissful. Some parents love documenting each stage from infancy to adulthood through pictures and videos. These are a wonderful way to immortalise precious memories. On your daughter's 18th birthday, surprise her with a personalised video encompassing all the beautiful memories from her childhood to the present day. This memorable keepsake will take her back to the bygone phases, reminisce and make her feel extremely loved at the same time.
The eighteenth birthday calls for a grand celebration. The memories of eighteenth birthdays stay with us forever. Even if you are away from your daughter on her 18th birthday, send these impeccable gifts and make her feel at the top of the world.