Sending gifts to parents in India
Gifts are the special way to say you care, an obvious way to show your love, affection and respect as well. Sending gifts to the near and the dear ones, means sharing the emotions. The desire to be with the loved ones, living back in India and the desire to be physically present with them every time, is not possible. Thus, sending gifts to India on different occasions makes you feel that you are connected with your loved ones, if not physically, then mentally.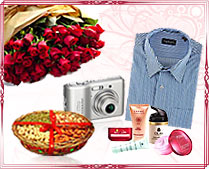 Gifts bring smiles to the face of our near and dear ones and if it is our parents, gifts are probably the best way to express the immense respect we have for them. Parents are the precious gems, the best teachers, from whom we learn the "do-s and the don't-s" of life. They teach us to adapt ourselves to every kind of situations in life. Furthermore, parents are the most precious support in times of immense hardships, troubles and emotional turbulence. Gratitude of love and respect can be best expressed by sending the things your parents love. You may send gifts for dad in India or sending gifts for mothers and make them feel that they are truly special for you.
Sending gifts to your parents does not require any special day or any special occasions. Gifts can be sent when you miss them, want to say how much you care, how much valuable they are to you or how much they mean to you. Even a small little gift sent to your parents can become very priceless, when it incorporates the sweet memories of your childhood, like the very first merry-go-round ride you enjoyed, the first day of your school or even the first scolding you got for pranks you played in class. Send gift for Dad in India and find him rejoice in happiness. Gifts may speak thousand words and reveal the most precious emotions, which you probably cannot express when you even meet them.
Parents themselves are the priceless gift we possess. The gift items to be sent to our parents may include a bouquet of flowers. It may be a simple little gift, but symbolizes love and care. Sending gifts for mothers with utilitarian values like traditional jewelry, kitchen items or a saree or salwar and it is sure to bring smile to her face. Gifts to India for dad may include various things like fashionable clothing like trousers, ties, jeans or shirts, electronic accessories like cell phones, digital cameras.
Send gifts to India through GiftstoIndia24x7.com. It is the platform that allows flexible sharing of gifts between the people living far away from India. Sending a Gift to India in today's world of technology, does not demand any toil or sweat. Many portals and internet sites today offer the facility to send gifts online. GiftstoIndia24x7.com is one of those gift portals that try to join the NRIs with their Indian roots. It genuinely tries to bridge the gulf between the dear ones living far from India. GiftstoIndia24x7.com has wide range of gift items for any occasion, for your dear ones. Send gifts for dad in India through GiftstoIndia24x7.com. Send gifts for mothers, be it cakes or music CDs. Gifts always become special when you mean to convey to your parents that they are so very special. Gifts of any kind, for any occasions, GiftstoIndia24x7.com has it all, suiting your taste and your budget as well.