Send Flower Baskets from FlowerstoMumbai24x7.com
Flower baskets are the best gift items that you can opt for your loved ones on any special occasion or festival. As the name suggests, a flower basket comes with different types of flowers decorated with ferns and leaves. The presence of a beautiful flower basket will definitely cheer up your dear one's mood. You can even create flower basket by selecting your dear one's favorite flowers. Your dear ones will definitely be enthralled.
Nowadays, you will avail various online florists through which you can send flowers to your dear ones. GiftstoIndia24x7.com is a proficient online florist through which you can send flowers to Mumbai. Along with flowers, the website also showcases diverse types of gifts for various occasions and festivals. Hence, you can avail the service of this online store and send gifts to your dear ones in Mumbai online.

Flowers are the special attraction of this website. Beautiful Roses, Carnations and Gerberas are available in this online store. They come in various arrangements such as in basket, vase, bouquet, life size arrangement and so on. However, if you are thinking to send something special then flower basket will be the right choice. In the 'Flowers and Cake' section, you will avail stunning flower arrangements that you can opt for your loved ones on any grand event. These flower arrangements along with the cake, will definitely bring a smile on your dear one's face.

Popular flower baskets that you can opt for your loved ones are as follows:-

Fascinating Basket - You can convey love to your dear ones by sending this fascinating flower basket. This basket includes 200 stunning red roses. The beauty of the charming roses have been further enhanced with green leaves and ribbon. Send flowers to Mumbai and make your dear one feel special.

Blissful Morning - This beautiful flower basket includes 4 Yellow Lilies, 8 Yellow Gerberas, 3 White Carnations and 5 Yellow Roses . Your loved ones will be delighted to receive this flower basket as gift.

24 Carnations in Basket - If your dear one loves Carnations, you can surprise her/him by sending this flower basket. The basket includes 24 multi colored Carnations decorated with fillers. The presence of this flower arrangement will definitely add special charm to the occasion.

Multicolor Roses Basket - This attractive flower arrangement includes 200 stunning mixed roses. A colorful assortment of mixed roses will impart a vibrant hue and will brighten up the mood of your loved one. Make your dear one's occasion even more special by sending this lovely rose basket.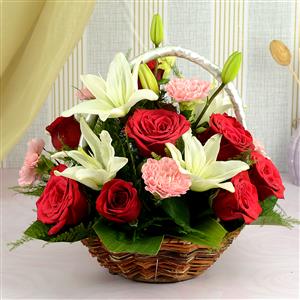 Colorful Basket - Flowers are always special gift. 4 red roses, 4 pink roses and 8 pink Carnations come in a basket with a handle. The basket is decorated with leaves and fillers & tied with ribbons.

Ravishing Orchids - This basket of 6 stem orchids is unmatched for its elegance and sensuous charm. They look so natural yet so gorgeous, making it a fascinating bouquet for a special occasion or day. It has the magical power to change a dull morning to a beautiful day. Send this beautiful online flowers to India and charm your dear ones.

Awesome Basket - A basket of 50 long stemmed orange roses has been introduced by Flowerstomumbai24x7.com.They are delivered fresh, budding and ready to bloom to impress your loved ones. Send this roses basket to Mumbai to those whom you love so much.

Send flowers to Mumbai online and make any occasion delightful.