Send Get Well Soon Greeting Cards to India
GiftstoIndia24x7.com has brought for you a range of exclusive and expressive get well soon greeting cards. These belong to the category of greeting cards that is available on this reliable online gift store. The cards can be used to send gifts to India from USA as well as other countries of the world. There are many other greeting cards for different occasions and events along with other gifting options that can be used as gifts to India. The get well soon cards are well written and they are for those friends and family in India who are suffering from some affliction. These gifts to India from US and other countries can be easily delivered to your loved ones in India.

The Pink, Yellow and White Roses Get Well Soon Greeting Card is very bright as well as attractive. The card is rectangular and elongated in shape having a radiant light and dark red colour on the outside. There are images of many blooming roses on the front with roses of pink, yellow and white colours. The inside also has images of multi coloured roses as well as greens and a gift with a heart warming message.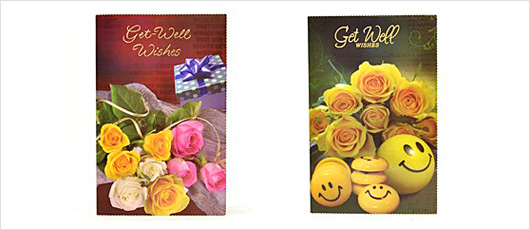 The Smiley Get Well Soon Greeting Card has a very vivid and also happy and joyous appearance. This greeting card is rectangular with an elongated shape having a very dark green colour with a mossy hue. There are various images of happy faced smileys as well as a yellow smiley ball and yellow roses. A light green colour fills up the inside of the card along with smileys, roses and also a heartfelt message.

The Sweet Pink Get Well Soon Greeting Card comes with a very soothing and relaxing background. The rectangular card is long in shape being pink in colour with embedded words in transparent form. A large bouquet of roses dominates most of the front of the card having yellow roses with green leaves. The inside is also pink and has the same bouquet of flowers along with a message that is very warm and reassuring.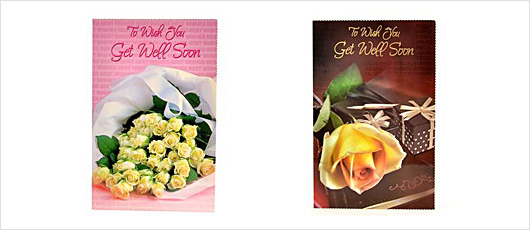 The Single Flower Get Well Soon Greeting Card displays a very loving appearance that is suited for this event. This long greeting card is rectangular in shape in a dark brown and dark red colour with embedded messages. The front of the card has a yellow rose that is long stemmed with green leaves and gifts with brown coloured packaging. The interior is pink in colour with a few designs and the same images of flower and gifts with a beautiful message.

While talking about this collection, Mr. Amit Desai, the CEO of this organisation, states that, "Online gifting can be found everywhere nowadays and this is becoming the most preferred mode of sending gifts. These get well soon greeting cards from GiftstoIndia24x7.com can surely express your feelings for your loved ones even if you are unable to be with them. You can also combine these greeting cards with many other gift ideas that have been showcased here."