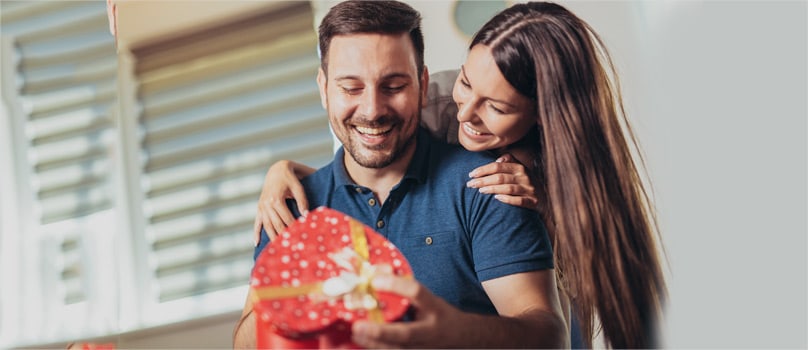 When love is in the air, it calls for some affectionate gestures. What better way to show the love you have for your husband or boyfriend than to shower him with cool gifts? Sending gifts to India can never go wrong. It can make the anniversary even better. Have a look at some cool gifting ideas that are sure to sweep your special person off his feet!
Personalized Greeting Cards

Greeting cards are one of the most common gifts. Yet, it is no slouch when it comes to conveying your deepest feelings for him. A well thought of greeting card always makes for a great gift. When it comes with a personal quote and a valuable picture, it highlights the love you have for each other.

Personalized Photo Frame

Every couple has some extraordinary moments during their time together. Capture and immortalise such a moment which he holds dear in a personalized photo frame. Photo frames come in all shapes and sizes. There are a variety of materials to choose from. Glass, metal and wood make for something unique. You can always choose to insert a quote which will make the frame even more meaningful.

A good looking frame makes for a wonderful addition to his table which he can show off with pride.

Customised Caricatures

A fun and light-hearted gift, caricatures are a trendy gifting item. Not every moment is serious. Immortalise one of the goofiest faces of his in a customised caricature. This would put a smile every time he steals a glance towards it.

Cosmetics and Grooming Hampers

A well-groomed guy makes an impressionable statement. Make sure your man looks at the top of his game by gifting him a grooming hamper. Perfumes, skincare products, hair care products, etc. are some common inclusions. You can also include beard oil, soaps and shaving kits to make for a sumptuous and useful gift.

Chocolate Boxes

Everyone loves chocolates! It is no surprise that these delectables feature as ideal gifts for any occasion. Give in to his sweet-tooth cravings and pamper the love over a palatable box of chocolates to India. Ferrero Rocher and Cadbury are some of the popular choices. You can choose to customise chocolate boxes with photos to celebrate your love.

Personalized Engraved Pens

Pens never go out of fashion. Even in this digital age, classy pens make a bold statement. Help your loved one stand out in the crowd by giving him a personalized engraved pen as a present. Not only will it come in handy but also enhance his style quotient.

Customised Coffee Mug

If your man lives and breathes by coffee, then a customised coffee mug is sure to hit the bull's eye. There are a lot of options available for customisation. You can choose from an array of colours, design, handles, quotes, etc. which will make it unique. Colour changing coffee mugs are something that should be on your radar if you want to ride the trend wave. These mugs change colour when you pour something hot and reveal its secrets!

Personalized Notebooks

Day planners and notebooks are being replaced by phones. But many still prefer the traditional ways. If your special one is such a person then a leather-clad notebook is something which will go a long way.

Watches

Watches and smartwatches make a bold fashion statement. There are a lot of modern watches to choose from. With the advent of smartwatches, technology has reached out even more than it was a few years back. This gift idea is a great choice for someone who is into the latest technology.

Sunglasses

Another fashionable accessory, sunglasses are one of the most stylish gifts one can give. Men love sunglasses. Aviators, wayfarers and shades are always adding a little something to the style. Apart from frames, there are a lot of unique and trendy colour options to choose from. If you need power optics for him, then that too is not something too difficult to avail. All in all, sunglasses cover every aspect while making him look good.
While the list goes on, these are some of the choices which you cannot go wrong with. These thoughtful gifts contribute to enhancing your relationship and nurtures love. Your love makes your anniversary special and a day to never forget. The gifts which you send to India are only an extension of your feelings.