Bring Smile On Her Face On Women's Day With Amazing Gift Hampers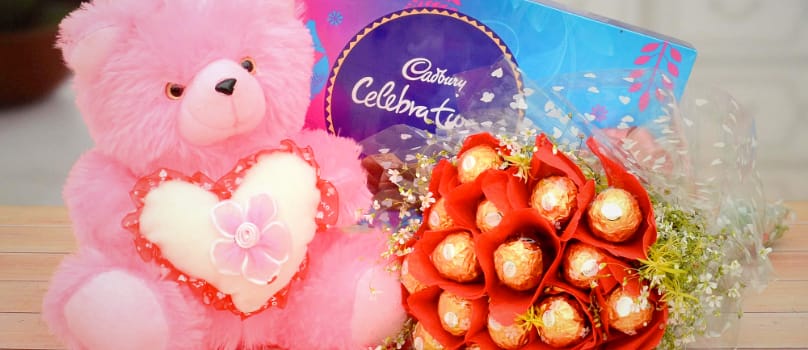 Women's Day is an opportunity for you to cherish all the lovely women who are a part of your life. But if you are away from these dear ladies then to make this day extra special you can send attractive gifts. A variety of exclusive Women's Day gifts to India is available on a number of online gift stores. You can opt for this reliable online gifting portal where you will find a number of such gifting options. Among the vast variety of gifts that is available here, the gift hampers for this occasion are truly noteworthy. A hamper is a collection of small gifts and you will find a number of exciting gifts have been showcased here. The hampers for this section consist of attractions like cakes, flowers, fruits, dry fruits, chocolates, soft toys, sweets, greeting cards, cookies, wall hangings and many more.
The Cake N Roses hamper can make that special lady in your life feel cherished and elated when she receives this gift. This awesome gift hamper is a combo of a cake and also a bunch of beautiful red roses. There are twelve red roses here that have been decorated using green leaves and tied with a ribbon and the accompanying cake is a yummy Black Forest one. The Delightful Gift Hamper is a very attractive gift that will be loved by your dear lady in India. The hamper consists of a cute purple and white teddy with a delectable Celebrations choco pack. There is also a bunch of twelve pink roses that have been tied using a pink ribbon and decorated with leaves.
The Ganesha Gift Hamper will be a lovely treat for her on the celebratory occasion of Women's Day. The hamper has a wall hanging in the form of Lord Ganesha within the symbol 'Om' and a container filled with mixed dry fruits like cashew nuts, pistachios, raisins and almonds. You will also get a platter of delicious sweets like kaju hearts and mewa rolls that will truly delight her. The Moment of Joy hamper can easily bring a smile to the face of your beloved lady in India. Juicy fruits and crunchy dry fruits like cashew nuts, pistachios, almonds and raisins make up this hamper. A cane basket has been filled with fruits like pineapple, apples, oranges, pears, grapes and bananas.
The Ecstatic Hamper is sure to make her ecstatic when she receives it as a surprise on Women's Day. This is also a combo pack of a bunch of flowers with a yummy and scrumptious eggless butterscotch cake. There are twelve pink roses in the bundle decorated with green leaves and tied with a pink ribbon. The Emotions hamper is filled with goodies that will be a perfect gift for her on this charming event. The hamper is a combo of assorted rose flowers and a chocolates box from the house of Ferrero Rocher. The flowers come in a big wicker basket with a handle which holds twenty four red and yellow roses decorated with gypsophila and greens.
The Perfect Combination hamper will be absolutely perfect for her on this annual celebration of women. The hamper comprises of a beautiful bouquet of flowers and also a platter of yummy kesaria peda. The bouquet consists of twenty alluring red and yellow roses which have been decorated with greens and a red and yellow bow. The True Bond hamper is very charming and will surely be a source of joy for her on this special day. The is a combo of flowers in a vase and a cute teddy bear which is light brown in colour wearing a blue T-shirt with a red bow. The flowers that come with this pack are twelve red and white roses with fillers decorated in a bright red vase.
You can opt for the flower delivery to India service available on this online gift store to get better results. This will help you to send flowers to India along with these and many other lovely gifts that are available here. The gifts to India coupon code will let you have the best deals that are available on our gifting site to make your experience with us even more fruitful.