When was Rakhi 2015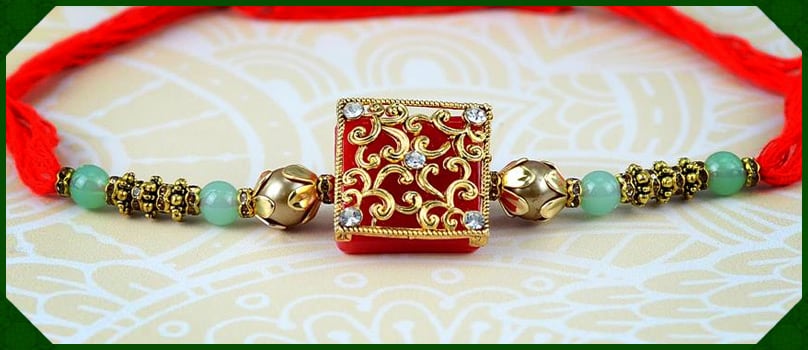 Raksha Bandhan, the Hindu festival, is simply known as Rakhi or Rakhi Purnima in many parts of India. The festival is a celebration of the eternal bond of love between a brother and sister. The festival initially started as a celebration between siblings having blood relations but today a woman and a man, even though not siblings, can still take part in celebrating Raksha Bandhan.
On this day, sisters tie a sacred thread around the wrists of their brothers. This thread is called 'Rakhi'. Thereafter, the day on which this is tied, also came to be known as Rakhi. Since the traditional Hindu calendar is followed to determine the day of Raksha Bandhan, the corresponding date for the Gregorian calendar varies every year.
A Brief History
Raksha means 'protection' and bandhan means 'bond'. By this definition, Raksha Bandhan signifies the festival of celebrating the protecting bond between a brother and sister. This festival has been celebrated since ancient times and hence there are numerous legends/ stories associated with the festival. Even the Hindu mythology contains not just one but two evidences of Raksha Bandhan.
According to mythology, Draupadi (the wife of five Pandavas) tied a piece of her cloth to the bleeding wrist of Lord Vishnu (who was injured, fighting Shishupal). Lord Vishnu then declared himself in debt of her sisterly love. He also promised to protect Draupadi lifelong, a promise he fulfilled later on. Another instance tells that Goddess Lakshmi (wife of Lord Vishnu) had tied Rakhi on the wrist of King Bali (a devotee of Lord Vishnu).
However, the earliest recorded evidence of Raksha Bandhan being celebrated was during 300 BC, when Alexander's (King of Macedonia) wife tied Rakhi on the wrist of King Puru. The second evidence was during the Mughal Period, when Rani Karnawati (widow of the deceased King of Chittor) sent a Rakhi to Humayun, asking for his protection to prevent the attack of Sultan of Gujarat, Bahadur Shah.
In modern times, Rabindranath Tagore started the festival of Raksha Bandhan on 16th October, 1905 between the Hindus and Muslims of Bengal province. It was observed to celebrate brotherly love between the two communities, on the event of the Partition of Bengal.
Rakhi Customs
The common customs that form a part of this festival include sisters tying the sacred thread to the wrist of their brothers. Sisters who have left their maternal home after marriage are invited by the parents and brothers on the day of full moon, to celebrate Rakhi. The sisters first places a kumkum tika on the forehead of their brothers, throws rice over the heads of the brothers and then tie rakhis on their wrists. Then they offer sweets and gifts to their brothers. In return, brothers offer return gifts to their loving sisters and make promise to protect them from all the troubles that may arise in their lives.
Rakhi Gifts
Sisters and brothers who will be staying abroad on this year's Raksha Bandhan, can express their love for their siblings by sending various rakhi gifts along with various online rakhis to India. Both the sisters as well as the brothers can find suitable gifts for their siblings on the portal of GiftstoIndia24x7.com. Below, is a suggestive list of the various gifts that can be sent as rakhi gifts to India.
Personalized Gifts
Adding personal memories to gifts will certainly increase their emotional value. One can personalize gift items like mugs, photo frames or key chains, by getting a photo printed on them. You can also opt for rock photos, personalized t- shirts, cushion covers etc.
Rakhi Thalis
Besides sending online rakhi India, sisters who are staying abroad can also send various puja thalis for their brothers back home. Apart from the puja thalis, rakhi thalis consist of various thalis like, mithai thalis (i.e. sweets packed in a decorated tray), dry fruits thalis, chocolate thalis, mixed thalis (dry fruits and chocolates or sweets combo) etc.
Gift Vouchers
A variety of gift vouchers to India is available that are ideal for both sisters and brothers. These include apparel vouchers and shopping vouchers from various brands, dining vouchers, and vouchers for watches, electronic gadgets and jewelry vouchers.
Rakhi Hampers
Apart from sending rakhis to India, you can also send various rakhi hampers. These are combo packages or assorted collection of various gifts that are hand picked exclusively for the occasion. They contain a variety of gifting items like dry fruit trays, chocolates, flowers, fruits, soft toys etc. The popular hampers include chocolate hampers, mithai hampers, hampers for brothers/ sisters/ sister- in-laws, all-in-one hampers etc.
Raksha Bandhan is a special day celebrated in full spirits in India and among the Hindu communities residing in different parts of the world. To make Rakhi a memorable affair for you as well as your siblings in India, GiftstoIndia24x7.com is offering a number of service for its customers. Select the rakhi you want to adorn your brother with, along with a beautiful gift, send them to your brother and make him super elated.