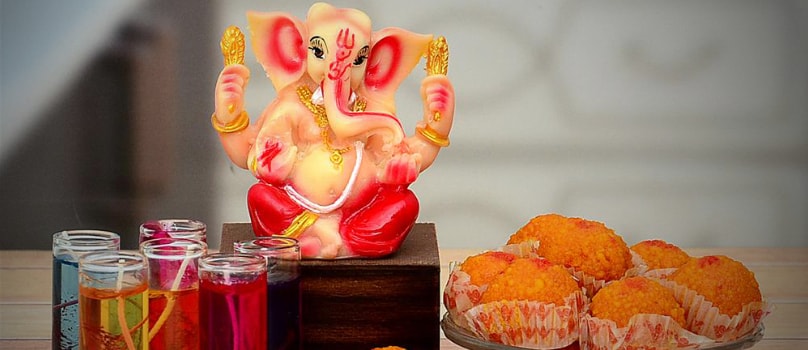 Onam is one of the biggest and most vibrant festivals celebrated in the South Indian state of Kerala. The people there, observe this 10 day festival to honour their legendary king, Mahabali. It is believed that his spirit visits the state (his former kingdom) during these days. The traditions of celebrating Onam include praying, gifting, feasting, performing music and dance and various other forms of social, cultural and religious activities. If you want to send your friends a little token of this elaborate celebration, here are the 10 best gift ideas for it.
Clothes

Gifting clothes to the near and dear ones is an important part of the traditional Onam celebrations. Commonly, men and women are given the quintessential Kasavu Mundu (dhoti like garment made of the Kasavu fabric) and Kasavu Saree (saree made of Kasavu fabric) respectively on this occasion.

Flowers

The traditions of Onam includes making floral carpets that are called Pookkalam. The designs in this beautiful arrangement are inspired from the legends of Mahabali. So sending your friend a nice bouquet of flowers is going to be a small representation of this age old tradition.

Ornaments

Ornaments made of precious metals is one of the most popular gifts exchanged on Onam. If your friend is particularly fond of such accessorization then, get her an attractive set of jewellery that shall complement with his/her traditional attire on this auspicious day.

Chocolates

Chocolates are those gifts that are simple yet steal the show on every occasion. Gift your friend a box of assorted branded or handmade chocolates to make the celebrations of Onam even more sweet for them.

Sweets

Sweets are an integral part of celebrating Onam. You could send your friends a box of handmade unniyappam, achappam, dry fruit kesari and other such traditional sweets. In case you can not send homemade ones, the readymade varieties of mouth-watering sweets are always available in the online and offline markets

Home decor

Onam is that time of the year when every Keralite household is decorated immaculately. From flowers to traditional mural wall hangings, you can find minute detailing in the way a house is beautified. Hence, one of the best and most meaningful gifts that you can give to your friends on this occasion are home decor items.

Silverware

It is common to gift a dear one silver ornaments on Onam. But you could put an innovative twist to this traditional gift. Send your friends a set of silverware that can be an exciting addition to their kitchen on this wonderful occasion.

Exclusive Kerala Spice Set

Food is a very big part of the festivities of Onam. And the most essential and important ingredient of Keralite food is its unique spices. So treat your dear ones on this special day with a wholesome and delicious meal prepared with your gift to them of an assorted Kerala spice box.

Idol

Lord Vishnu is worshipped by the Keralites during the festival of Onam. Hence an idol of the Lord himself makes an amazing gift for this occasion. It is also a nice way to wish happiness and prosperity to them

Dinner Voucher

The Onam Sadya or the Onam feast is one of the major attractions of this festival. Friends and family get together to share a sumptuous meal that could include over 2 dozens types of food items. For those who are staying away from home, this could be one part of the festival that shall be missed dearly. So to make those friends feel special on this day, gift them a dinner voucher of the best restaurant in town.