Top 5 Gift Ideas for Onam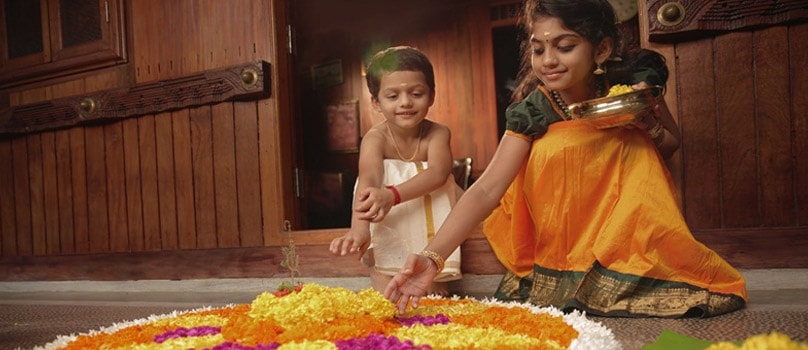 Image Credit : keralam
India basks in the glory of vibrant festivities. Onam is the most celebrated festival of Kerala. This ten days long ecstasy comprises of grand feasting, boat races, songs, dances and jubilant merriment. This festival commemorates the true devotion of benevolent king Mahabali to Lord Vishnu. It also reminisces the sacrifice of human pride of the great king and his final retrieval. According to popular fables, the 'Vamana' avatar of Lord Vishnu granted the king his sole wish of visiting his kingdom once in a year before his redemption. It is believed that King Mahabali returns to his kingdom during the days of Onam celebration.
Onam or Thiru Onam, the harvest festival of Kerala is celebrated in the Malayalam month of Chingam (August-September). People adorn themselves in beautiful new clothes. An ornate flower carpet or 'Pookalam' is laid at the entrance of each house to welcome King Mahabali. Onam is all about sincere rituals and gorging on sumptuous delicacies, 'Sadhya'. The aroma of 'Payasam' (rice pudding) fills the air during this 10 days long celebration.
The Government of Kerala has termed the Onam days as the 'Tourism Week'. It is the best time to visit 'God's Own Country' as the state gets engrossed in fervorous procession of elephants with exquisite caparisons, feisty fireworks and spectacular 'Kathakali' dances. The coastal state also witnesses various sports and cultural activities during this festival. The most famous of them all is 'Vallamkali' or the grand boat race. The long snake boats which take part in this competition are called 'Chundans' as their long hulls and sterns resemble the raised hood of King Cobra. The tussle of pace in the backwaters of Kerala takes the form of a naval warfare with superb manifestation of muscle power, rhythm and speed.
Impressive Gift Ideas for Onam
Onam is the festival of social communion. Apart from offering puja to the Almighty it is also the festival of seeking blessings from the elders of the family and exchanging pleasantries among people of diverse religious beliefs. Choose an expressive presentation for the ones you adore and make this Onam momentous for them.
1. Sweets
The festival of Onam is all about grand feasting and merrymaking. Friends and relatives get together and enjoy mouthwatering delicacies. Sweet dishes like 'Payasam' and other traditional desserts are enjoyed by the people of Kerala during these days. Sweets and other mouthwatering eatables are exchanged among the loved ones to build a sense of solidarity. Convey your good wishes to your dear ones with an exquisite assortment of Indian sweets on the auspicious occasion of Onam and make your presence felt among them.
2. Dry Fruits
One of the most enjoyed delicacies of Onam is 'Payasam'. Munchy dry fruits like cashew nuts, raisins, almonds augment the richness of this delectable dessert. Dry fruits are also proffered to the Almighty as these eatables symbolize affluence. Be a part of this ecstatic festivity with a hamper of tasty dry fruits for your friends and relatives.
3. Apparel Vouchers
The people of Kerala, irrespective of their caste, creed and race get decked up in vibrant fineries for the festival of Onam. An apparel voucher from a leading lifestyle brand will be an apposite gifting option for your loved ones in India. From traditional draperies to apparels of contemporary fashion, they can pick any outfit of their own choice using this paper gift.
4. Flowers
Every house in Kerala is beautified with a mesmerising decoration of flowers or 'Pookalam' at the entrance as a part of Onam celebration. The devotees also offer special puja to Lord Vishnu and seek blessings from him for a prosperous future life. An exotic arrangement of colourful flowers is the best gift to convey your heartfelt feelings to your kith and kin and add more joy to the grand festival.
5. Holy Silver Idol
According to popular mythological stories Lord Vishnu incarnated as 'Vamana' to end the reign of great king Mahabali and facilitate his final redemption. Devotees offer prayer to Lord Vishnu on the auspicious occasion of Onam. Let the blessings of the Almighty shower on your loved ones with an exquisite silver statuette of Lord Vishnu and Goddess Laxmi.
Onam brings people of all religious beliefs together. It is the celebration of unlimited joy of life. The festival has become the lifeline of Kerala, the land which takes pride in being the example for unity in diversity. Be a part of this grand carnival by showering love on your dear ones with adorable gifts.