Top 5 Zardosi Rakhis to send to India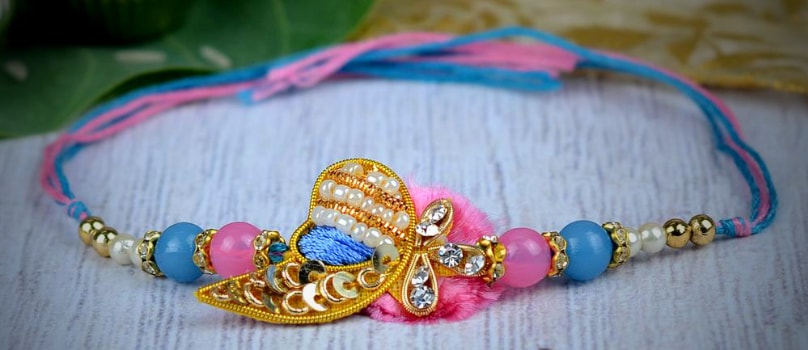 On the festive occasion of Rakhi, Giftstoindia24x7.com has arranged a wide galore of attractive Rakhi gifts and threads in its store. Raksha Bandhan is the auspicious occasion centering round tying a sacred thread by the sisters on their brother's wrist. Siblings eagerly wait for this day to come. Rakhi falls in the Hindu month of Shravana and in July-August according to the Gregorian calendar. Since the popular occasion of Raksha Bandhan is about to come, plan for the day to make it memorable both for you and your brother. This reliable e-gifting portal has been assisting the NRIs to send Rakhi to India to their loved ones. Hence, if you are settled somewhere offshore and you are unable to visit home to celebrate this occasion due to some professional commitments, avail the global services of this portal and delight your brother this year. Apart from Rakhi thread, you can also send gifts paired with it to enhance the charm of your gift. Your Rakhi to India will reach your loving brother right on time. To ease your searching process, this site has segregated its Rakhi threads section under different categories such as Kids Rakhi, $ 3 Rakhi, Precious Rakhi, Bhaiya-Bhabhi Rakhi and a lot more to name a few. Hence you will find Rakhi threads according to his choice and age. Alongside these, in the gifts section you will find items ranging from precious gifts to electronic gadgets, from accessories to apparels to home decors to make your pick. Here amidst the plethora of gift items, you will feel lost while shopping. With this proficient gifting portal you will enjoy shopping and gifting as well. Here we have listed Top 5 Zardosi Rakhis for you to choose from -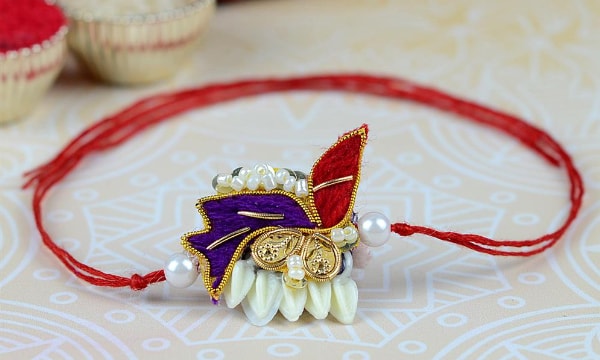 1. Decorative Lace Rakhi
This is a magnificent Rakhi thread made of gold-copper gorgeous lace. The beauty of the Rakhi thread is further decked with crystal droplets and sequins and is bordered with zari works. On its one side, the Rakhi thread is beautified with red and green beads and sequins. Wherever you be, by sending this gorgeous Rakhi thread you can impress your loving brother.
2. Exclusive Droplet Shaped Rakhi
This droplet shaped Rakhi thread is decked with artificial white stones. To heighten its beauty there is a maroon colored stone at the centre. Below this, maroon and green colored beads are attached. Both the sides of the maroon colored satin thread are beautified with beads, balls and sequins.
3. Sparkling Round Shaped Rakhi
The main attraction of this attractive Rakhi thread is the big floral design, placed on a maroon colored base, which is studded with sparkling stones around its edges. Furthermore, the big red stone at the centre, bordered by small white and red beads give the whole Rakhi a very traditional look. Also, the swastika symbol along with the golden and green cylindrical beads at both end heightens its beauty.
4. Green Purple Shining Rakhi
This purple and green colored satin based rakhi thread is decorated with silver and golden zari, satin threads, artificial pearl and white stones. Your brother will definitely be enthralled to receive this wonderful thread. Comes with balls and beads that further enhance the look of the thread.
5. Exclusive Zardosi Rakhi
This wonderful Rakhi comes with moss green satin base. The base is artistically embellished with beautiful zardosi work. The Rakhi has a 'kalka' design. The design is intricately decked with golden beads & coiled zari and green thread works. The beauty of the Rakhi is amplified with white sparkling stones. To add color to your Rakhi gifts, you can surprise him with a handmade Rakhi thread, if you know how to make a Rakhi thread. If magnificent gifts from this site be coupled with a handmade Rakhi thread will definitely make him feel your presence on this special day.