Top 5 Gift Ideas for Guru Poornima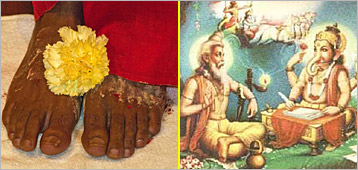 A guru enlightens the inner conscience of his disciples and seeks blessings from the almighty for a blissful life of his followers. India is the land of ancient civilisations and a country rooted deep in tradition. A spiritual or academic mentor is held in high esteem in this part of the world. He/she is venerated as 'Brahma' or the Supreme Lord of the universe. It is believed that a teacher facilitates a new birth of his students eradicating the darkness of ignorance. The providential occasion of Guru Poornima is being observed on the full moon day of the month of 'Asadh' since the ancient days of 'Gurukul' when the disciples used to learn lessons residing at their guru's place. In 2014, Guru Poornima will be celebrated on 12th July. This auspicious day is also known as 'Vyasa Poornima' as it commemorates the birth of Maharishi Vyasa, the author of the great Hindu epic, the Mahabharata. This is the day to pay gratitude to our mentors with some offerings or 'Guru Dakshina' for his guidance to sail through the stream of life.

Delightful Offerings to the Guru -
On the sacred occasion of Guru Poornima, intense devotional service is offered to the guru and special 'Puja' is observed. It is the day to pay homage to our academic and spiritual guides for illuminating our life with the light of knowledge and spirituality. Make some delightful offerings to your guru on this auspicious occasion.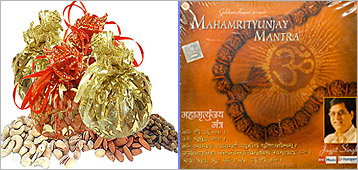 1. Music Cds & Dvds : Music is believed to be the most pleasant path of attaining divinity and salvation. Proffer your Guru a cd or dvd of devotional songs to manifest your respect for him/her. This musical gift from you will be surely appreciated by the pious soul on the providential occasion of Guru Poornima.
2. Dry Fruits : Dry fruits, the most healthy snacks for munching at any time of the day are one of the most sought after presentations for Guru Poornima. These nutritive edibles are often offered to the Almighty in special 'Puja' and later distributed among devotees as 'Prasad'. Proffer your esteemed mentor a delightful assortment of dry fruits like Cashew nuts, Raisins, Almond, Walnut and lots more on this auspicious occasion.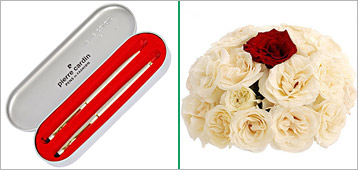 3. White & Red Roses : White roses symbolise reverence and purity. Present your esteemed guru a bunch of effervescent white roses with a red one in the centre of the arrangement symbolising love and respect. This adorable bouquet of blooms will speak a volume about your adulation for him.

4. Pen Set : This propitious day also holds special significance to the academicians. They celebrate the day by paying respect to the notable scholars and their teachers and professors. To all the academicians, Pens are venerated as the embodiment of Goddess Saraswati, the Deity of knowledge. A classy pen set is the most befitting gift option for your teacher on Guru Poornima.

Guru Poornima is the occasion to pay homage to the ancient lineage of illuminated souls who have blessed the world with their benevolent presence and wisdom. A guru dispels the darkness of ignorance and guides us in the path of enlightenment or knowledge. This sacred festival has assumed great significance among devotees of various religious beliefs. Celebrate the day by manifesting your veneration for your esteemed guru and offering him/her delightful 'Gurudakshina'.