Top 5 Gift ideas Which Can Delight Your Brother on Bhai Dooj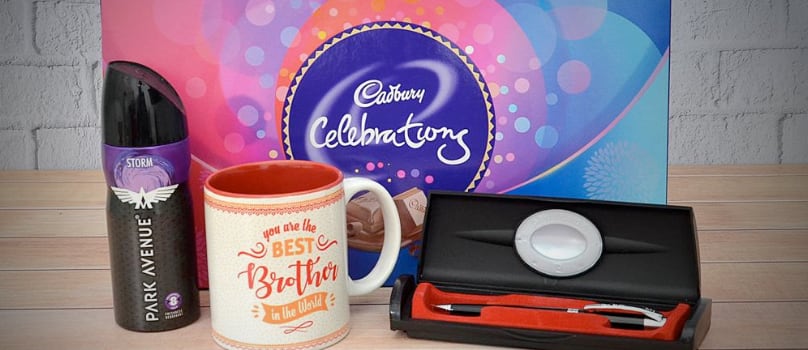 Bhai Dooj is the celebration of the sacred bond between a brother and a sister. It marks the end of the sacred festival of Diwali which goes on for five days. Bhai Dooj is also known as Bhai Phota, Bhai Tika and Bhau Beej in different parts of the country. The celebration of Bhai Dooj is completed with the brother and sister exchanging gifts and spending the day together. But if you are staying in another country then celebrating Bhai Dooj with your brother becomes difficult.
You can celebrate Bhai Dooj with your brother in India by sending online gifts to him. Our online gift store offers you many cheap gifts to India that are attractive and will also easily fit into your budget. Furthermore, we have also prepared a list of the top 5 Bhai Dooj gifts to India that will surprise your brother on Bhai Dooj. These gifts are easily available on our gifting site and will be sent to your brother before this auspicious day.
Hampers containing goodies for your brother will be a perfect gift for the occasion of Bhai Dooj. Select a hamper that contains items which your brother loves and that will be useful to him. You will find 4 kinds of hampers here on our online gifting portal. The chocolate hampers mainly showcase chocolates along with sweets, namkeen, soft toys, dry fruits and mints that will be loved by your brother. You can also gift a dry fruits hamper to your brother which has dry fruits as well as sweets, vouchers, chocolates and sagun coins. If your brother has a sweet tooth then gifting him a sweets hamper is a good idea and the hampers available contain many such delicacies and also dry fruits, namkeen and chocolates. There is also a separate section of hampers for brothers. This part contains gifts that your brother can use in his day to day life. There are personal care items, clothes, cufflinks, vouchers, watches, pens, purses, belts, perfumes, dry fruits and sweets. The Park Avenue Style Kit hamper contains personal care items that will prove to be very useful to your brother. The hamper contains a shaving kit bag, Park Avenue Classic shaving cream, Gillette Vector Plus razor, Park Avenue Ace aftershave lotion and a shaving brush.

Chocolates:

Chocolates are universally popular as gifts for any occasion and Bhai Dooj is no exception. Sending a gift of chocolates to your brother will make him very jubilant on this special occasion. The delectable chocolates available here are very popular with kids as well as adults. Brands like Cadbury, Nestle, Snickers, Belgian, Royal Dansk, Ferrero Rocher and Lotte will be loved by your brother. Homemade chocolates as well as personalized chocolates are available here for you to choose from. Hampers containing different kinds of chocolates will definitely delight your brother. The Mixed Chocolate Thali is a perfect gift for this occasion and your brother will enjoy this a lot. It contains a Dairy Milk Fruit & Nut, a Dairy Milk Roast Almond, a Dairy Milk Crackle, Perks, a Gems Ball, handmade chocolates and packets of Gems. These yummy delicious chocolates will be a tasty treat for your brother.

Gadgets:

Guys love new and popular gadgets and therefore this will be a good gift for your brother in India. Devices like phones, tablets, cameras and webcams are sure to make your brother feel elated on this special day. There are a number of gadgets available on this online gift store. The Bhai Dooj section has webcams, pendrives and TV boxes which will be very useful to your brother. He will be very delighted to receive the Logitech C170 which is a very sophisticated looking webcam. This webcam will help him to keep in touch with you as there is a big geographical distance between the two of you. The device has a 5 megapixel camera and a built-in microphone which will help him to spend time with his friends and family.

Accessories:

Accessories are necessary for a person's day to day life and gifting your brother an accessory on this coming Bhai Dooj is a great gift idea. These will be very useful to him and he will cherish them forever. Our gifting site has a number of stylish and attractive bags that will be very much appreciated by him. There are portfolio bags, executive bags, briefcases, professional bags and backpacks. They come in black, brown and grey colours and your brother will feel more confident when he uses them. The Attractive Executive Bag will make your dear brother's Bhai Dooj extra special and memorable. The bag has many zippered sections that can hold documents and other office essentials. The main compartment is large enough for him to place laptops or other such items. He may also carry change of clothes in it if he's going for an overnight trip.

Sweets:

Sweets are an essential part of any festival and on Bhai Dooj it is especially so. It is customary to offer sweets to one's brother after applying tika on his forehead. Many delectable sweets are available on our website for you to choose from for your brother in India. These include kesaria peda, mewa shankh, kaju suraj, kaju pista roll, kaju barfi, badam barfi, kesar barfi, chocolate peda, kaju roll, mewa pista barfi, mewa tikka, kesar surya, kaju pista phool, kheer kadam and a lot more. The Sweets Thali consists of 5 yummy sweets for your brother. Traditionally, 5 types of sweets are offered to the brother by the sister on the occasion of Bhai Dooj. Thus, this Bhai Dooj sweets hamper would be perfect for your brother. The delicacies it contains are chocolate peda, kheer kadam, kaju pista roll, kaju pista phool and kesar barfi.
Surprise your brother on this coming Bhai Dooj with these and many other delightful gifts to India. Gifts for other occasions are also available here that will be loved by your friends and family. If you are unable to attend important events in their lives then you can easily send wedding gifts to India and anniversary gifts to India to your dear ones.