Send Gifts to India on Bhai Dooj with GiftstoIndia24x7.com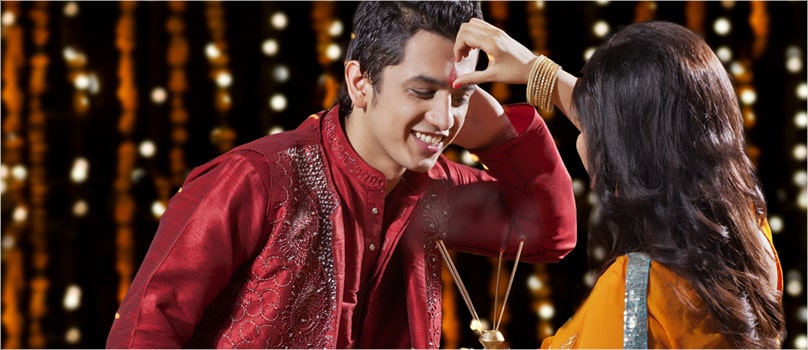 "Bhratus tabaa grajaataaham,
Bhunksa bhaktamidam shuvam
Preetaye yama raajasya
Yamunaah Visheshatah"
~ Bhai Dooj Sloka in Sanskrit
It means "I'm your sister, Eat this sacred rice, For the pleasure of 'Yam Raj' and 'Yamuna'..." Every sister while putting the tikka on the forehead of her brother chants this sloka on the auspicious day of Bhai Dooj.

Bhai Dooj, Bhai Bij, Bhau-beej, Bhai-Phonta, Bhatri Ditiya, Yama Dwithiya, Bhathru Dwithiya, Bhai Tika - one festival and hundreds name. On the fifth or last day of Diwali, brothers and sisters in India celebrates this auspicious occasion. Like Raksha Bandhan, this festival is another ceremony which pays tribute to the sacred relationship shared between a brother and a sister here in this 'land of festivals'. People in India love to celebrate every occasion that commemorates the sacredness of any relationship based on love. Bhai Dooj is one such festival which has a strong significance in the traditional Indian culture. On this very day, sisters keep a fast and put a tikka on the foreheads of their brothers and pray for their lifelong happiness. Brothers in turn shower their sisters with loads of gifts and bless them.
In India, a festival like Bhai Dooj is not just a festival but a way to uphold the rich cultural heritage of India that is still flowing beneath. And like many other Indian festivals, legends behind Bhai Dooj still captivate us. According to the Hindu calendar, Bhai Dooj predates Raksha Bandhan and is more popular in Northern part of India. Generally celebrated in the month of October or November, it reinforces the brother-sister bond. On this day exchange of gifts is a common practice among all. While sisters present their brothers with beautiful Bhai Dooj gifts, brothers also do not hesitate to flood sisters with plethora of gifts. If you are wondering when is Bhai Dooj in 2011, then it is on 28th October.
But, in the recent years the trends of Bhai Dooj gifting has undergone a sea change. Now, with the change of lifestyle patterns and career opportunities, an increasing number of Indians are settling down abroad. For these people it is not possible to come and celebrate Bhai Dooj together with families and friends. The desire of gifting sister or brothers personally is also a nearly impossible task. Few years ago these people used to depend largely on the courier companies to send gifts to India. But, with the revolutionary emergence of world wide web the whole scenario has been changed drastically. The advent of e-gifting has been proved a blessings to these Indians residing abroad. Now, with a whopping number of online gifting websites, sending a gift to India on special occasion like Bhai Dooj is just the most simple task like making a cup of tea.

GiftstoIndia24x7.com is one of the most pioneering online gifting portal which offers its reliable service of sending a gift to India on Bhai Dooj. To help you out in finding the best gifts for your dearest brother and sister, it brings to you its special section of gifts for Bhai Dooj. From precious silver items to latest gadgets, from branded apparels for brother to designer watches, it has arranged for everything that will suit this special occasion of Bhai Dooj 2011. You will also find a tasteful range of sweets for brother which will surely sweeten your special bond with your brother. Apart from these gifting items, it also has refreshing perfumes, spiritual gifts, puja thali, gift vouchers, personal care items and accessories to satisfy the every possible gifting needs of every sister in this world.

So, celebrate this occasion of Bhai Dooj by sending alluring gifts to your dearest brother. Send gifts to India through GiftstoIndia24x7.com and augment this special bond in the most heart-touching way.