Top 5 Gift Baskets for Lohri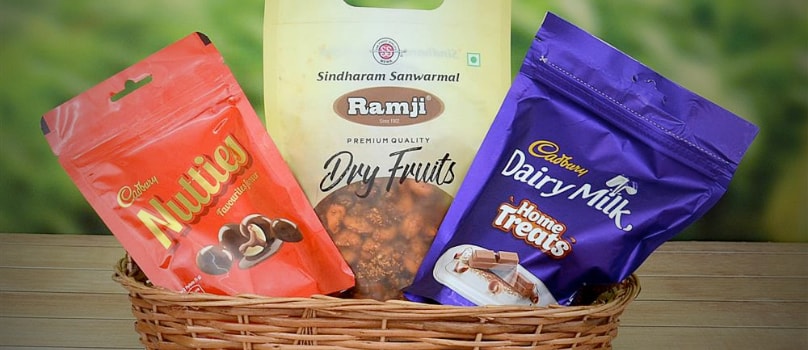 The festival of Lohri marks the end of the month of Paush and beginning of the month of Magha, generally falling on 13th January every year. This festival is celebrated with a lot of enthusiasm, dancing around the bonfire, savouring great delicacies and having a great time with family and friends. If you are not in India to celebrate the occasion with your loved ones, you can send Gift Baskets to them along with your good wishes. Gift Basket is a perfect gift to India for Lohri as you can send a lot of dry fruits, sweets, chocolates and many other combination of gifts. We want you to have a great Lohri celebration with dear ones even being far and we present to you a suggestion on creating the best Gift Basket.
Dry Fruits Gift Basket

Lohri is the festival when people have a lot of dry fruits, in fact two or three dry fruits are also tossed in the bonfire to mark the beginning of the new year with God's blessing, and so Dry Fruits Gift Basket will be a wonderful choice for your loved ones in India. The gift basket can be a traditional thali or a cane basket which is filled with delicious and nutritious dry fruits like almonds, pista, kaju, rewari and many others.

Chocolate Gift Basket

This gift basket can be given to any member in the family irrespective of their age. The basket can have the best chocolates like Dairy milk, Kitkat, Ferrero Rocher, Bournville and many more. The Chocolate Gift Basket will be loved by family and friends.

Sweets Gift Basket

For the occasion of Lohri, you can also send your dear ones a Gift Basket of sweets. Indian festivals are complete only when you have sweets to savour. When your friends and family will be sitting in front of the bonfire, they can have your given sweets and enjoy the occasion even more.

Fruits Gift Basket

Another top gift basket for Lohri is Fruits Gift Basket, as Lohri is a traditional Indian festival fruits are a part of it. You can wish your family and friends a good health with the Fruits gift basket. Specially for the elderly person in your family this will be the perfect gift basket.

All in one Gift Basket -

If you want to send a big gift basket of goodies you can send your loved ones All in one Gift Basket. As the basket will contain a lot of items like dry fruits, chocolates, sweets, fruits and spiritual products. This gift basket will put up a big smile around your dear ones face when they recieve this all in one gift basket making the occasion of Lohri very special.

We hope that with our given suggestions your Lohri celebration will a memorable one with your friends and family in India.