Top 5 Gift Ideas for Bihu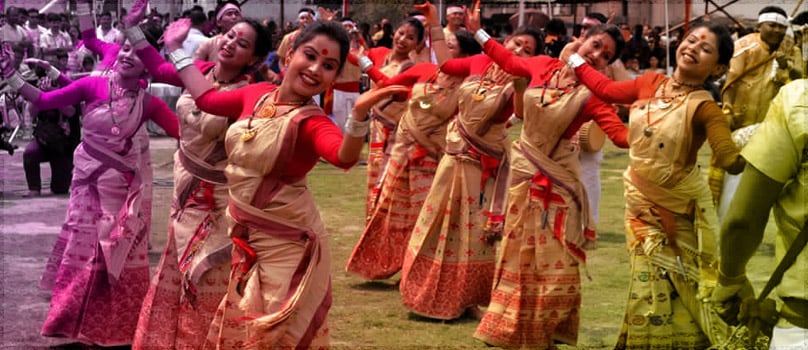 Image Credit : newsd
The state of Assam is special not only for the incredible scenic landscapes, but also for its culture, fairs and festivals. And when it comes to the Festivals of Assam, Bihu tops the list. Bihu is the National festival of Assam and is celebrated uniquely by the Assamese people. Gifts are an integral part of any festival and Bihu celebration is incomplete without gifts.
Bihu, the most popular festival of Assam is a collection of three festivals which is celebrated in the months of January, April and October. The three forms of Bihu festival are Bohaag Bihu, Bhogali Bihu and Kaati Bihu. Bohaag Bihu marks the beginning of New Year at the advent of seeding time, while Bhogali Bihu in January is all about eating and enjoyment and Kaati Bihu is associated with the sowing and transplant of paddy plants.
Bihu Gift ideas
You can make the celebration grand by exchanging Bihu gifts among each other. In fact, you can bring smile on the face of your loved ones by presenting them amazing gifts on this festival. Some of the unique Bihu gift ideas like sweets, chocolates, dry fruits, decor items and gift hampers can delight your dear ones. Bihu is celebrated in all over the world and thus comes the trend of sending gifts to India by those who are miles away from their dear ones and failed to be a part of this festival.
Sweets
Sweets is one of the most popular and best gift ideas that people loves to send and receive on any occasion. Bihu is also not an exception. Relatives and friends living abroad can feel the presence of their dear ones and can make them feel special on this festival by sending amazing gifts to India.
Chocolates
Chocolates can definitely make your dear ones smile and happy on this Bihu.You can hardly find someone who will be unhappy getting a pack of dark chocolate or a Ferrero Rocher. For chocolate lovers, nothing can be better than a treat of milk chocolate and baked chocolate. Cherish your loved on this festival by gifting them a box of delectable chocolates.
Dry Fruits
Gifting is all about making a person feel special happy. A box of dry fruits containing almonds, big cashew nuts, decorated with beautiful gift packs or boxes can bring a smile on anyone's face. It can be a very good option to cherish your loved ones when you are far away from them and it comes to sending gifts to India from any corner of the world.
Home Decor
A home decor is one of the best things to be gifted to your dear ones. Home decor items like a Brass Buddha, or a Wall decor, a decorative mirror, or stickers can bring smile on the face of your loved ones. Even small things like Assamese dolls can be good Bihu gifts. So, a home decor can be considered as one of the best Bihu gift ideas.
Gift Hampers
Make the celebration grand with an exclusive gift hamper. Presenting a gift hamper is a superb idea to cherish your loved ones. A gift hamper or a gift basket is a collection of gifts like a teddy bear, some chocolates, books, etc. packed together. It can be an excellent Bihu gift idea.

So is the euphoria - the festival of Bihu. Make your celebration special with incredible Bihu gift ideas. Delight your dear ones with amazing gift ideas on this festival. Celebrate Bihu with some unique gift ideas!