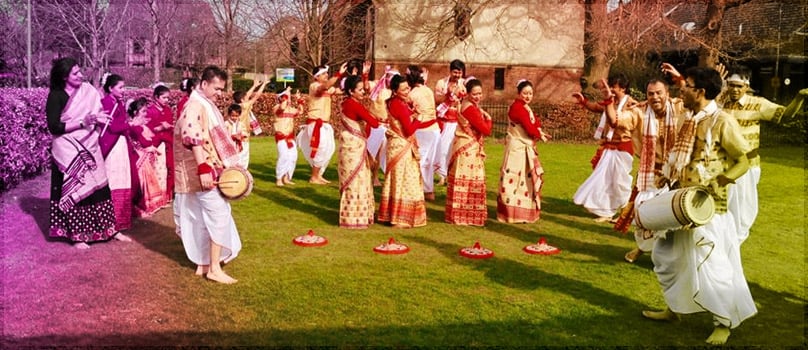 Image Credit : gozocabs
Bihu, the most important festival of Assam is a carnival of social integration. People of all demographics participate in the festival indiscriminate of any class divides.The agrarian community is predominant in this region. Naturally, Bihu and its festivities are deeply rooted in agricultural activities and the changing mood of nature. The Bihu festivals of Brahmaputra valley not only remind her people of the tradition of Assam but also tell the story of man, built on the edifice of agricultural and pastoral life. The people of Assam celebrate three Bihu festivals in a year. "Rongali Bihu" or "Bohag Bihu" is celebrated in the middle of April, "Magh Bihu" or "Bhogali Bihu" is observed in January and "Kaati Bihu" or "Kongali Bihu" falls in the middle of October.
Rongali Bihu
Rongali Bihu or Bohag Bihu like other festivals of Assam is a synthesis of diverse cultures which have blended to become a common heritage of the people of the state. This harvest festival of Assam inspires unbounded joy and enthusiasm, expressed through melodious songs and sensuous dance moves.
The week long festival of Bohag Bihu commences on Vishuva Sankranti Day (On this day the Sun enters the Zodiac sign of Aries or "Mesha rashi" on its celestial path). It is celebrated to welcome the Assamese new year. Grand feasting and distribution of sweets are integral parts of this vibrant carnival. Fairs are organised in various places making the mood of festivity tangible.
On the first day of the celebration cattle are worshipped and raw turmeric is applied on them. The cattle are adorned with twigs of "dighalati" and "makhiyati" (special trees found in Assam and North East India and these are endeared to be healthy and protective). New ropes are tied to their neck. The cattle are set free to roam around on the day. The commencing day of Rongali Bihu is also called "Goru Bihu". On this day, people in Assam eat 101 types of herbal plants in various places.
Traditional cultural events are organised by the youth of the villages to make the festival pompous. These events consist of graceful dances and Bihu songs primarily based on romantic themes.
Kaati Bihu or Kongali Bihu
Unlike Bohag Bihu, Kaati Bihu is a solemn affair. The women observe prayers of Goddess Laxmi (The deity of Wealth) to welcome her home. Earthen lamps are lighted in paddy fields and they are placed on bamboo poles. These special type of lamps are called sky candles. These ceremonial rituals continue for the whole month of Kartik (October-November).
Magh or Bhogali Bihu
Image Credit : magicalassam
Magh Bihu or Bhogali Bihu generally falls on Makar Sankranti ( It marks the transition of the Sun into the Zodiac sign of "Makara Rashi" or Capricorn ). People get involved in merriment and distributing sweets and cakes. Young boys visit houses and chant traditional numbers to collect donations.The fund is raised to repair the village "Namghar" ( Community Prayer Hall ) and organise community feasting. The celebration culminates with burning small huts of straw constructed solely for observing traditional rituals.
Bihu Dance
Image Credit : information of assam
Bihu dance is known for its subtle and graceful moves and effervescent charm. Male and female dancers merge together in a group but maintain different gender roles. The male dancers and the accompanying musicians enter the dancing area first in synchronized patterns. The female dancers enter the area later following strict circular formations. The female dancers maintain the order of the dance. Definite and sensuous postures, movements of the hips, arms, wrists, twirls and squat make Bihu dance a visual treat.
The Bihu dance is accompanied by Bihu music. Dhulias (drummers) play seus (traditional rhythmic compositions) with one stick and a palm. The "mohor xingor pepa" (a kind of trumpet) is blown in the beginning to set the mood for dancing. "Gogona" (a reed and bamboo instrument), bamboo clappers, "Xutuli" ( clay whistle) are other popular musical instruments assisting this beautiful dance.
Bihu Geet
Bihu Geet or Bihu songs complement the youthful Bihu dance. Bihu songs not only convey the mood of lucid amorous flirtation but they also depict every mood that is reflected in human behaviour. Social life of the farmers, commentary on contemporary socio political issues are other popular subjects of the lyrics. Bihu Geets portray spontaneous and passionate thoughts in couplet. Sweetness and subtle shades of suggestion are integral parts of these melodious numbers.
Bihu, the inspiration of social life is celebrated with wild ecstasy. Since time immemorial it has been the face of Assamese culture and heritage. The festival is celebrated with unmatched vigor and grandeur. With little religious fervour it has become the festival of oneness with the passage of time.