Top 10 Electronic Gadget as Gifts for Him in India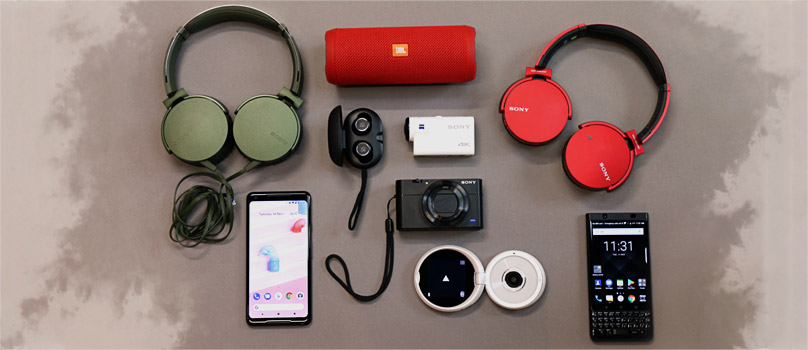 Men are gung-ho about using gadgets and technologies in their daily lives. Right from grooming their beard to tracking their vitals, gadgets find an important role in their day-to-day lives. With science and technology moving ahead at a break-neck speed, scores of such products come into the market every day. In this article, we have listed 10 such gadgets that a man would love to get as a gift.
Waterproof speakers

Music is often an important part of a person's life. It helps both relax and concentrate depending on the genre they listen to. But all this fun must be left far far away from water. These amazing waterproof speakers make this taboo go away. It is a perfect gift for anyone who loves to take a relaxing steam bath while listening to soothing music in the bathroom.

Electric Coffee Maker

It is impossible to get the perfect brew every day while making the morning coffee in a rush. So gift a loved one an electric coffee maker that will make his mornings extra special. It is super easy to use and makes a nicely brewed coffee as per one's liking.

Smart Multi-Cooker

Cooking might not be everyone's forte, but eating surely is a necessity. Hence the perfect gift for a man who does not know his way around in a kitchen is a smart multi-cooker. This marvellous gadget has multiple presets that cooks the food itself once the ingredients are added. It has various recipes programmed in it.

HD Camera

Photographs and videos now have perfect colour and clarity down to every pixel. This is the doing of HD cameras. These cameras have a tiny body with amazing picture quality. An HD camera will make an amazing gift for anyone who likes photography. These also come with attachment gears that lets one fix it on helmets while bike-rides, trekking, caving, etc.

Electric Groomer

Grooming to perfection in just a wink is now possible with a pair of electric groomers. Give the special man around you a neat grooming experience with this set. The different attachment heads of this wonderful device lets one style their hair and beard in various different ways.

Gaming Console

Gaming is a serious affair for many men, both young and old. So, send a man who is dear to you a funfilled surprise of a gaming console. Make his weekends and get together with friends a more exciting one with this gift.

Wireless Phone Charger

The charging points in one's house is always a tangled tragedy of multiple wires. Get a man you love, the freedom from this mess by gifting him a wireless phone charger. It is a quick and convenient alternative to regular charging techniques.

Electric Massager

Age and physical labour often leaves one with pain and soreness in the body. The best way to get relief from these is a nice massage. It is not always feasible to visit a masseuse or book a session at home. But you surely can gift them an easy way to combat this. Electric massagers are the answer to this problem. They are simple to use, battery-operated devices that can be conveniently stored. There are also numerous varieties of these available in the market.

USB Cup Warmer

Does your loved one often get too engrossed in work and forget about the beverage mug beside him? Then gift him a USB cup warmer that will keep his drink warm for longer. This will let him sip on his favourite beverage at leisure and carry on with his work uninterrupted.

Smartwatch

There is so much that people need to keep track of these days. Help a man dear to you shed some of these botherations onto a wristwear. A smartwatch is equipped to do much more than just tell time. It can also track the distance one walks and the equivalent calories burnt during it.