Top 10 Eid Gifts for Wife in India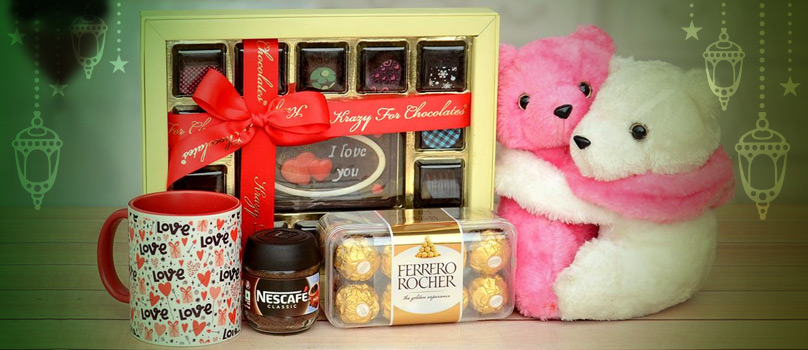 Eid is a time of merriment and giving back. It is when you count your blessings and thank those around you for making your life a complete and fruitful one. Of those people, the person who is involved in your life from morning to night is your wife. Take this opportunity to acknowledge her efforts in making your life a beautiful one. Here is a list of gifting ideas that you can refer to for acquiring the most suitable gift for your lady love.
Handbags

A woman's is like Pandora's Box. It contains the most important things for her in an organised and compact manner. Right from essential toiletries, to daily hygiene products, women needed to throw in certain extra items in their handbag. Getting her the perfect one that suits her needs, style and purpose could be the best thing you could get her for Eid.

Chocolate Hamper

Women love chocolate. It elevates mood, calms the nerves and last but not the least it tantalizes the taste buds. This Eid, evoke the child in her with a goodie basket full of her favourite chocolates to India on Eid and watch her beam in a happy glow.

Perfume

A good smell always plays a key role in making one feel happy and positive. Brighten your darling's days with exquisite aromas that shall cheer her up and make her feel optimistic on this Eid.

Mobile Phone

Everyone now has a mobile phone, but with technology progressing at breakneck speed, there is always room for upgrading. Get her the best of mobile phones with the coolest of designs from the topmost brands in the market. Let this Eid be a well connected one between the two of you with this thoughtful gift.
Seen the latest models yet?

Designer Burqa

Get your beautiful Begum a quintessential designer burqa for this Eid. Who said that tradition and fashion can't go hand in hand? With new boutiques and designers revamping the age-old burqa with the most modern cuts, designs and accessories, it is a must-have for your wife.

Cosmetics Hamper

Eid is the time when your lady love shall want to look her best. Get her an assorted collection of her favourite cosmetics and skin care products to make her feel special and loved.
Which of these cosmetics is her favourite?

Jewelry

Jewelry is a gift that can convey the deepest emotions to a person. It is treasured not only for its value but also for the sentiments attached to it. Get your wife a beautiful set of jewelry on this Eid and watch her gleam and glitter under the holy moon of this auspicious day.

Shopping Voucher

A shopping voucher is the best gift when you are not sure about what to get your wife. With such vouchers comes the freedom of choosing one's own presents. You might not be always aware of her necessities or choices, but this gift is a good way to arrange for them.

Jewellery Box

Jewelleries must be maintained with the utmost care to prevent loss or damage. You could gift your wife a beautiful box for this purpose which shall be extremely useful to her.
Check out these beautiful jewelry boxes

Colourful Misbahah

Help your wife tread the righteous path of spirituality with a dash of colour on this Eid. Buy her a beautiful string of colourful Misbahah with which she can perform her daily Dhikr. These prayer beads come in attractive colours which makes it a unique gift for your lovely lady.
Finding the right gift for your wife might not be as difficult as it seems. Just spending a little time observing her and realising her needs can help you to zero down upon that one item that she would love to have. Share the warmth of the auspicious occasion of Eid with your wife with a little present and make it a memorable day for her.