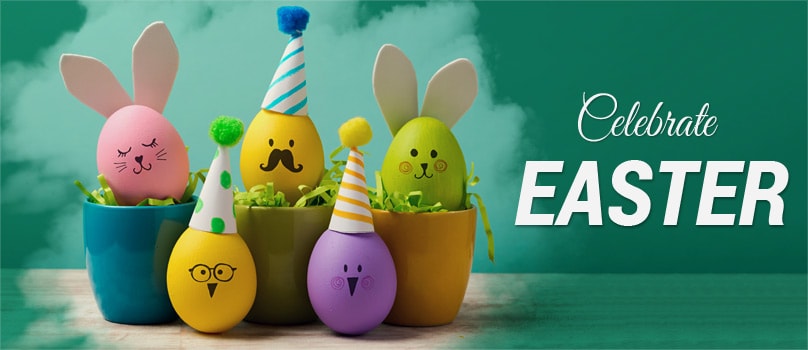 Easter is an extremely auspicious time of the year for Christians all around the World. It is believed that after Lord Jesus' crucifixion on Good Friday, he was miraculously resurrected on the Sunday of Easter. The celebrations of this occasion revolve around the Lord himself and the various symbolisms of life like the egg and the rabbit. It is also customary to send gifts to one's friends and families. Hence we present to you a list of 10 gift items that have been selected keeping in mind the customs, rituals and the overall essence of this day.
Baking Equipment Set

Easter is a festival that is associated closely with the tantalizing aroma of freshly baked goods. From glazed bundts to spongy hot cross buns the menu is drool-worthy. Hence the best way to make this Easter a special one for your friends and family is by sending them a set of baking equipment. These could include a simple oven mitt, a piping bag with different nozzles, electric blenders and whippers or even a convection oven.

Cake

It is the day that the Lord rose from the dead giving hope and joy to all his disciples. Hence this day calls for an elaborate celebration. Any festivity is incomplete without a generous piece of cake to India. So send your friends and family in India a well-decorated and delicious cake that they can relish on this day.


Easter Bunny Soft Toys

Easter is incomplete without its iconic mascot - the bunny. Bunny soft toys can be extremely good gifts for children as well as adults on this occasion. According to Christianity, rabbits signify new life and hence toys, plush and chocolates in its shape are gifted on this auspicious day.


Handmade greetings card

When you think of Easter, the first thing that comes to your mind is paint, glue, blank cards, and various other craft supplies. Not only children but also adults indulge in making special pieces of art to decorate and distribute during this festival. Hence one of the best gifts you can send your friends and family on this occasion is a handmade greeting card. This gift shall be even more special because of your emotional and personal involvement in making it right from scratch.

Chocolates

There is no denying that sending chocolates to India make one of the best and most versatile gifts for any and every occasion. But on Easter, it is even more relevant as it is a part of the traditions. With time the practice of gifting painted eggs evolved into making special chocolate eggs that were extremely beautiful to look at and tasted delicious. The concept of Easter Bunny has also been adopted by chocolatiers over time and this sweetened goodness is available in its shape in different sizes. Gift your friends and family a nice box of assorted chocolates and make their Easter a more special one.


Spiritual Books or DVDs

The best part about Easter is that it falls on a Sunday. Gift your dear ones an engaging Easter afternoon by sending then a nice set of DVDs on spiritual films and books. It can be a nice family activity that can create moments that they will cherish for a long time to come.

Garments

Wearing new clothes on Easter is believed to bring good luck to a person. So be an integral part of their good times by sending them a nice set of clothes. It is customary to wear new clothes to church on the Sunday of Easter. Hence your gift could be a nice part of their celebrations as well.

Easter Lilies

The name itself justifies the gift. The Lilium longiflorum species of flower is pure white in colour. Because of its appearance, this flower has been associated with Christ and his purity and innocence. So sending a loved one this flower could mean a lot on this occasion.

Crockery

With people coming over and elaborate dinners being arranged to honour this festival, this is the best time of the year to gift your close ones crockery. An extra set of beautifully designed utensils and preferably with Easter-themed prints could be a useful and thoughtful present.

Easter-themed Showpiece

A little touch of the Easter spirit to the walls and cabinets of your loved ones' home can be a nice addition for them. You could send little Easter-themed showpieces and wall hangings on this special day.