Top 10 Bhai Dooj Gifts for Sisters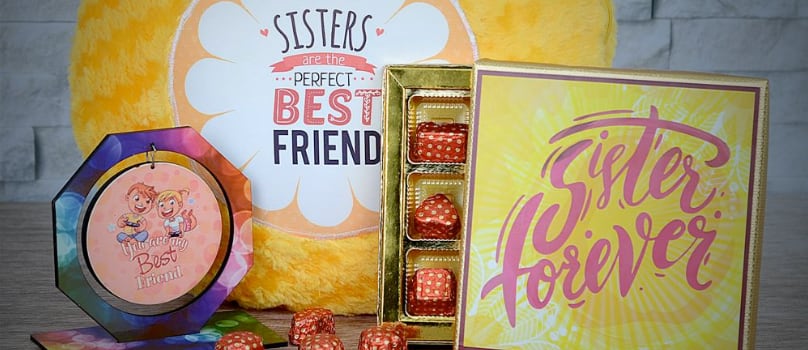 One of the cutest relationships that people share in their lifetime is the one with their brother or sister. In India, there are two festivals that honour this beautiful bond - Rakhi and Bhai Dooj. Bhai Dooj also known as Bhratri Dwitiya is celebrated on the second day of the waxing moon phase of the Hindu month of Kartik. Here is a list of the 10 best gifting options for your sister that fits the occasion perfectly.

The biggest fights as kids for most people were over a bar of chocolate. So on this Bhai Dooj, gift your sister a nice assorted box of chocolates with her favourite ones and make this important day a special one.
Handbag
A lady carries her world in her handbag. Right from her essentials to her favourite things find a nice compartment in her bag. Hence strike a balance between style and utility and get her the perfect handbag to keep and carry her things.

Every brother-sister duo has a lot of memories to cherish. Be it pictures or a code name for a particular person there are many many things to remember and have a good laugh about. Let this day of bonding be enhanced with little bits of these through personalized gifts. Your sister is sure to love a nice personalized mug, clock or photo frame as a gift.
Can not find the right gift for your sister? Here's something you can play safe with. Get her a shopping voucher and let her choose the right gift for herself. These vouchers preserve her freedom to choose while also keeping you as an important part of getting the gift.
Perfumes
Let the lovely day of Bhaidooj be a fragrant one too with the gift of a classy perfume. You can choose a floral, fruity or spicy fragrance depending upon your sister's preference. A whiff of this perfume is going to be a wonderful reminder of yours for a long time to come.
Watch
A watch is a versatile gifting item that fits every occasion and every relation. One can never have too many watches and every single one of them is a chic accessory. This gift is something she can preserve for a very long time and use it as and when she likes.
Beauty Products Hamper

Winter is coming literally. It is that time of the year when your sister will be extremely concerned about her skincare. So the best item that makes for a perfect gift at this time of the year is a hamper containing all the essential skincare and beauty products.
A simple bouquet of flowers conveys a lot more emotions than most gifts. It embodies simplicity and elegance all at once. Send your sister a beautiful bouquet of her favourite flowers and surprise her with it on this Bhai Dooj.
Jewelry
A jewelry is not just a gift, it is an asset that secures your sister even if in a small way for the days to come. With Bhaidooj being a day when the sisters pray for their brothers' long and healthy life and they reciprocate with the blessings of health and prosperity jewelry makes for an amazing gift.
Is your sister into healthy living and fitness? Then the best gift you can get her for this Bhai Dooj is a nutritious basket full of her favourite fruits and dry fruits. You can send this gift over without having to worry about her not liking it.