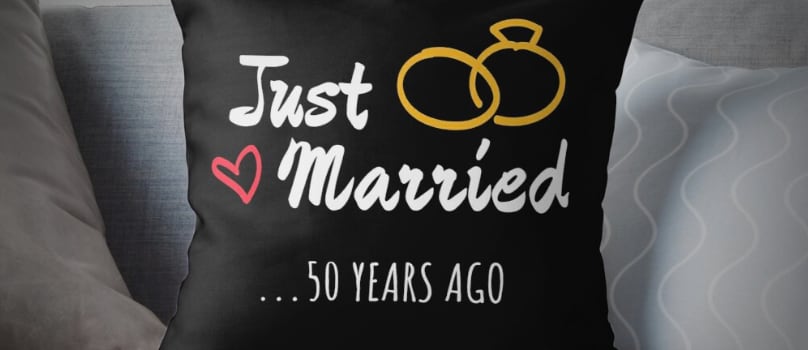 Golden Jubilee Wedding Anniversaries are very special to be acknowledged. Celebrating 50 years of togetherness absorbed in love and faith is a wonderful statement about the gift of married life. Golden Anniversaries are always linked with gold which shows its value and preciousness. Spending half a century together is a event to be honoured. This is a memorializing time not only for the couple but for their children and acquaintances. Such couple requires acclamation and gifts are a wonderful way of expressing our heart. So, we have came up with some amusing gift ideas for your parents 50th wedding anniversary.
Cutting a cake is one of the most important and awaited part of such a special wedding anniversary. People prefer white wedding cakes as white symbolises purity and truthfulness. Cakes are wonderful desserts which are easily available as well. But since its your adorable parents' day make them feel on the top of the world. Let their special cake baked by the grand 5 Star Hotel Bakery. Taj Cakes are one of the best choices among all. Their cakes are so finely baked and delivered that you can't resist yourself from appreciating them. Order one for your parents golden anniversary making it more precious and memorable.

Golden Jewellery

Gold being the primary symbol of the 50th anniversary, golden jewelleries as gifts will work wonderfully to please your parents. Old age often deviates people from social enjoyment and fun. Fabricate the situation for them and let them celebrate their special day energetically filled with love and joy. Golden jewelleries are traditional items which are loved and adored by every lady of this world. Men prefer wearing gold jewelleries occasionally. Gift a pretty pair of finger ring or wrist chain showing bondage and togetherness to make this occasion momentous for your lovely parents. Gold coins even work wonderfully as a token of love and remembrance.

Taj Hotels & Resorts Gift Voucher

Spending 50 years together making a marriage successful to its end not only means sharing love and faith. It constitutes the every problem and suffering one has to face to live a livelihood. Our parents have always struggled for lending us a beautiful future. This is the high time to give them back those prosperity and serenity. Gift them a voucher from Taj Hotels and Resorts giving them some time to spend with each other enjoying the every comfort of life. This will be a wonderfully unique and fabulous gifting idea on this golden occasion.

Remarkable Showpieces

Showpieces reflect our emotions and feelings. Send a heartwarming showpiece symbolising their long journey of love and patience. Showpieces will adore your parent's room as well. You will find enormous showpieces in the market that will touch their heart with glee. Make this remarkable occasion memorable through one such purposeful showpiece.

Customised Rock Frame

This wonderful gift item depicts a cut piece of real rock with the customised picture of your choice. These are the most unique piece of personalized art. Rock Frames will give a defined look to your room as well. So, these can be a wonderful gift item to amuse your parents on this significant occasion. This Golden Anniversary gift your parents something unique fixing up an old pic of their youth on the frame making them remember their golden days.

Basket of gold flowers

Yellow flowers represent trust, compassion, and respect. Moreover yellow being the symbolic colour of this grand occasion, an intricate bouquet of tulips and sunflowers can work wonderfully. Sunflower signifies adoration whereas tulip symbolises perfect love. These gentle flowers will show the warmth of their relation spreading an flavour of love all around the atmosphere. Select a perfect bunch of these pretty flowers tickling their heart with a touch of joy.

Golden Rose

The couple who have spent 50 years together need approbation. They are that special pair who can transform hatred into love. No such materialistic things are enough to praise their patience and love. Giftstoindia24x7.com has thus brought for them a special item which will surely amaze them with its exquisite look. This is a 5 inch metal rose finely plated with gold. Roses are the eternal symbol of love; and this golden rose is ideal for this golden event. Surprise your parents through this wonderful and classy gift item which can be treasured for ever as a token of their endless love.

Chocolates are always symbolised as the perfect token of love and affection. The milky and chocolaty flavour of the chocolate tickles up our taste buds bringing immense joy in our heart. But handmade chocolates are something which carries with it a personal touch of love. This lovely occasion send your parents a box assorted with such handmade chocolates making them feel loved and adored.

Book Vouchers

If your parents are passionate about books this can be a wonderful gift. Book Vouchers from renowned stores like Starmark, Oxford, Crossword, Landmark etc will give them the option of selecting their choice of books accordingly. Apart from lending knowledge, books entertains us, keeps us free from stress and even sets our mind free delivering a happy mood. The couple must enjoy reading wonderful books together sharing their own views and thoughts. But selecting the perfect appreciable book to gift is really hard to find. So, help yourself by gifting a book voucher which will give your parents the scope to buy books of their own choices. Make their Golden Anniversary more special by sending lovable gifts for them.

Home Decor Clocks

Time stops for none and flows as a river. Likewise, couples celebrating their golden wedding anniversary has flowed several years together. Give them a wonderful home decor item symbolising their unchangeable and unstoppable love for each other. Giftstoindia24x7.com has brought for you a wide range of designer home decor clocks which will not only show you time but also give a new look to your beautiful room. Enchant your parents by gifting one such wonderful home decor clock making them happy and charmed.